2 Adults available for loving, permanent
indoor only homes.
We currently have 2 adults that are looking for very special new homes. If you would like further information, please contact us here and we can send our cat / kitten questionnaire out to you.
~ * ~ * ~ * ~ * ~ * ~ * ~ * ~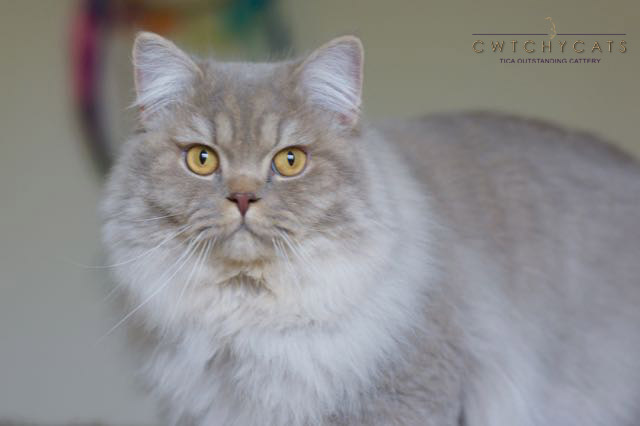 Edelweiss Britfavorite of Cwtchycats (Tsar) is looking for his forever indoor home. He did really well on the show bench and is a Triple grand Champion with TICA. He is a beautiful boy inside and out that is looking for a quiet home and lap to retire to. He came to us from Russia (hence his name) and made some beautiful kittens for us. As a thank you, we are looking for the perfect home for him without his hormones and other cats. He would cope fine with a dog, but not with other cats or with children under 12. He's a loving, affectionate boy, who cuddles like a koala bear once he knows you. He needs a lot of grooming - probably daily to keep his coat in check, so please do not enquire if you cannot commit to this. He is in excellent health, is vaccinated up to date and has had a recent heart scan which found his heart to be in excellent health. He has also been neutered and is wormed up to date. He has been DNA tested clear for PKD and PRA-pd, which can affect the breed.
Please contact us if you would like more information or if you think you can offer Tsar the perfect home that we're looking for, for him.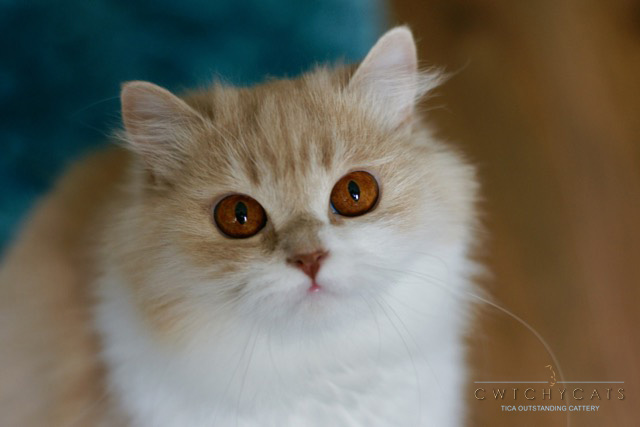 Dina Parel of Cwtchycats is also seeking her forever home. She would also like to be an only cat, but wouldn't mind older children and / or dogs. Dina came to us from Belgium and did exceptionally well on the showbench, winning Best British Longhair Kitten worldwide in 2015/2016 with TICA. She has had 2 litters with us, and is now retired and looking for her forever home. Dina loves to cuddle (on her terms) but doesn't like to be picked up. She's a sweet and loving girl, but knows her own mind and wont be persuaded to do something she doesn't want to! ;) She's finding it a little stressful here with the other (hormonal) cats, so we need to find her her own palace where he can be the princess she deserves. She's still very kitten like in lots of ways and loves to play hard!
She's been DNA tested clear for PKD and for PRA-pd which can affect the breed. She has also had a recent heart scan and her heart was also found to be in perfect health. She doesn't need too much grooming, a few times a week will be enough for Dinas' coat. She's clean in the house (super clean actually, she'll happily scrape up food near the bowls the other cats have dropped), always uses the litter tray and has no behavioural issues. She doesn't like the vet however, and your vet will need to be made aware of this, as she soon makes this known!
Please contact us if you would like more information or if you think you can offer Dina the perfect home that we're looking for, for her.
~ * ~ * ~ * ~ * ~ * ~ * ~ * ~
All cats and kittens will come with our full support and advice that may be needed in future times and our assurance that should your circumstances change and you're unable to keep them, they can come back to Cwtchycat Towers or we will assist in finding them new forever homes.

If you think you may like one of our cats to come and live with you, please ​​​​​​​contact us and we will send you our kitten questionnaire. Without exception, ALL of our cats MUST go to indoor homes where they will be loved, played with, adored and groomed regularly and we will require regular updates on how they are doing in their new homes. In return, we will be here with support 24/7 if you have any problems or need any cat related advice in the future. This is the same for ALL of our kittens or cats.