| | |
| --- | --- |
| Ama | Finn |
Became parents again on May 29th 2019.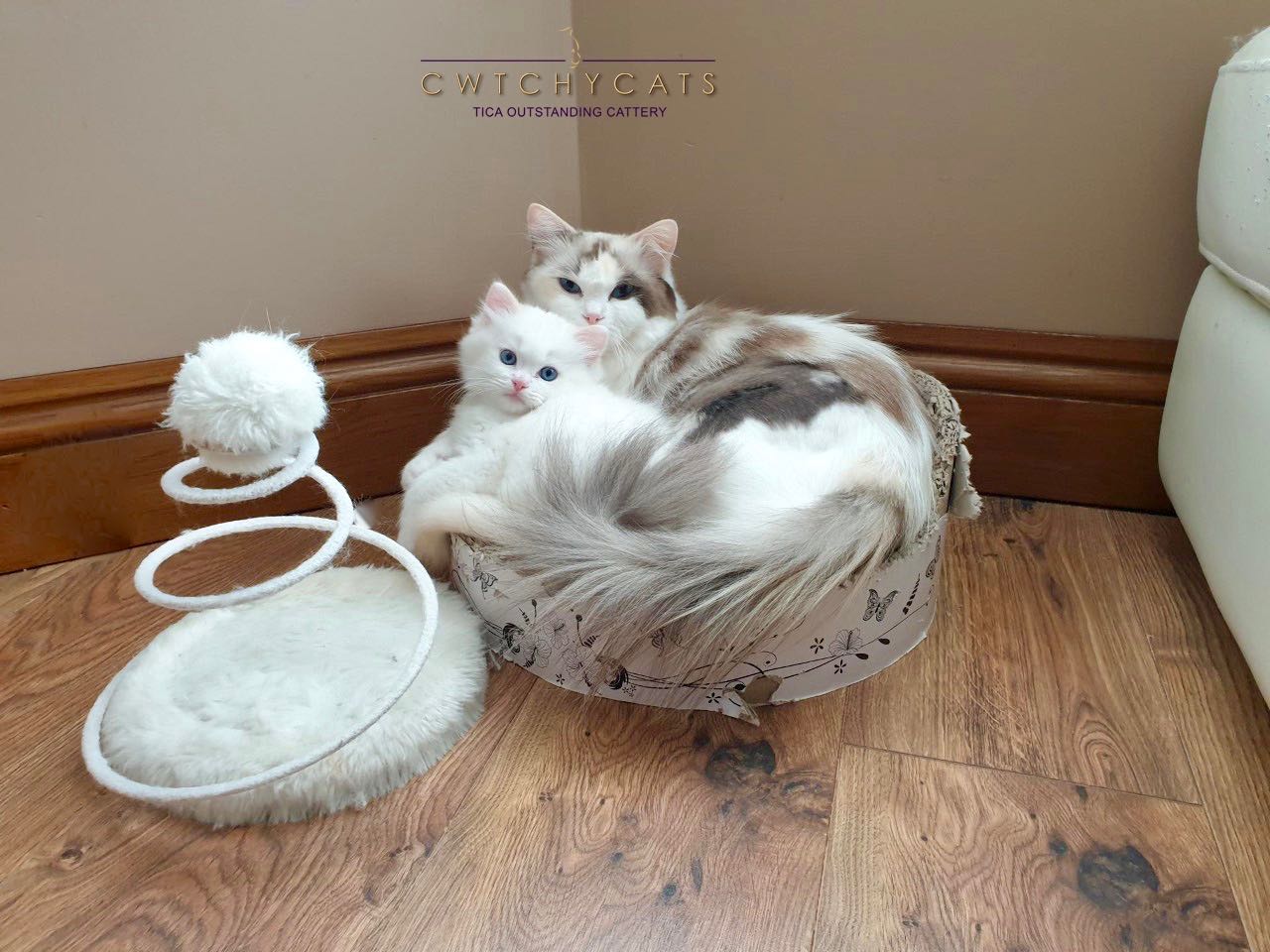 Ama & Kai 8 Weeks
Sadly, Ama struggled during labour and needed a caesarian section at Day 66, many thanks to
The Cardiff Cat Clinic for their timely intervention and for saving her sons' life!
She had a single kitten, a little cream bicolour boy who was born at a tiny 76g. Ama had problems after delivery too and it took a while for her milk to come in. Thankfully, when it did, it came in really well and the little man is doing really well now!
Cwtchycats Malachi (Kai) -

Cream (HM) Bicolour Boy
Kai is RESERVED for Barry & Family

Introducing Cwtchycats Malachi (Meaning My Angel) - we thought it very appropriate, as he was literally hours away from a certain death when we (and our vets) intervened! A very special little man indeed!
Week 8
Kai now climbs very adeptly and loves to play and pounce on his poor long-suffering Mum or our feet - depending on which is closer! He has discovered the laser pointer and loves to chase this too. He briefly met Uncle Bapuss this week, and wasn't very impressed with that! Bagpuss looked a little bemused when Kai started hissing at him! I am sure they will soon be firm friends though, everyone loves Bagpuss here.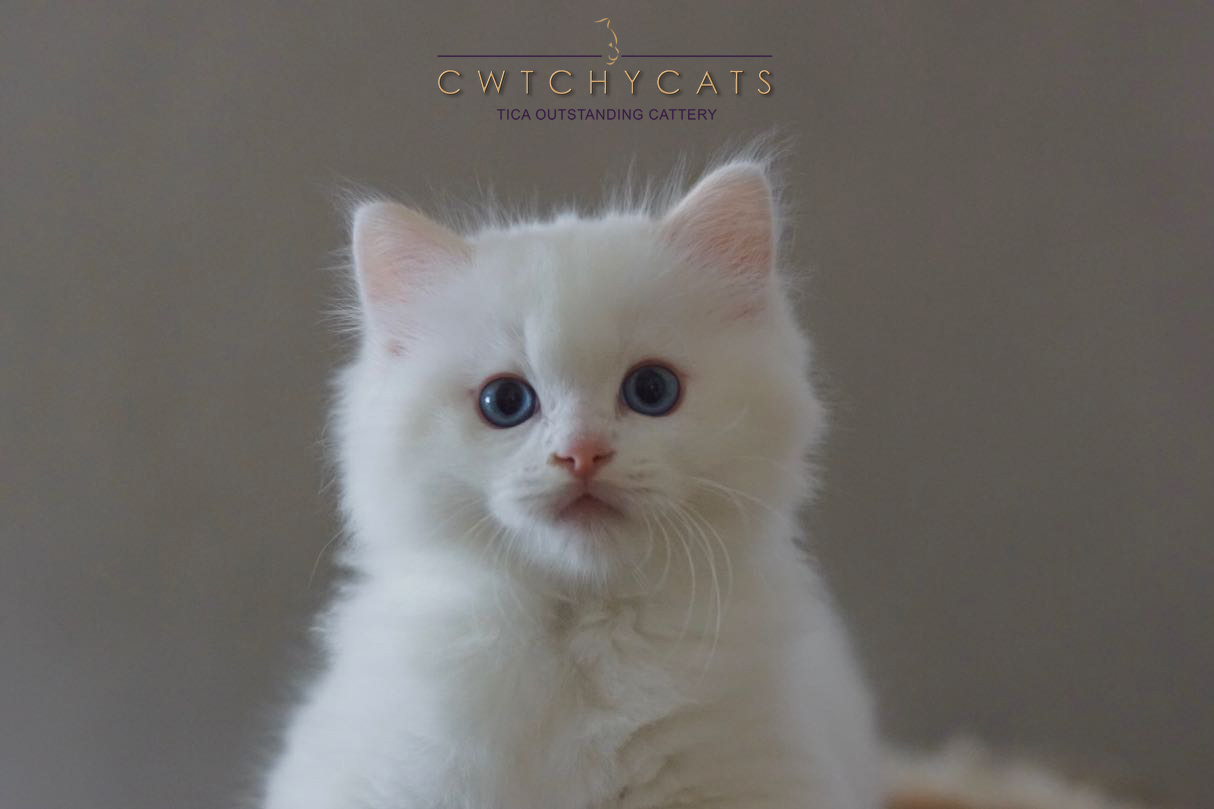 Kai 8.5 Weeks Old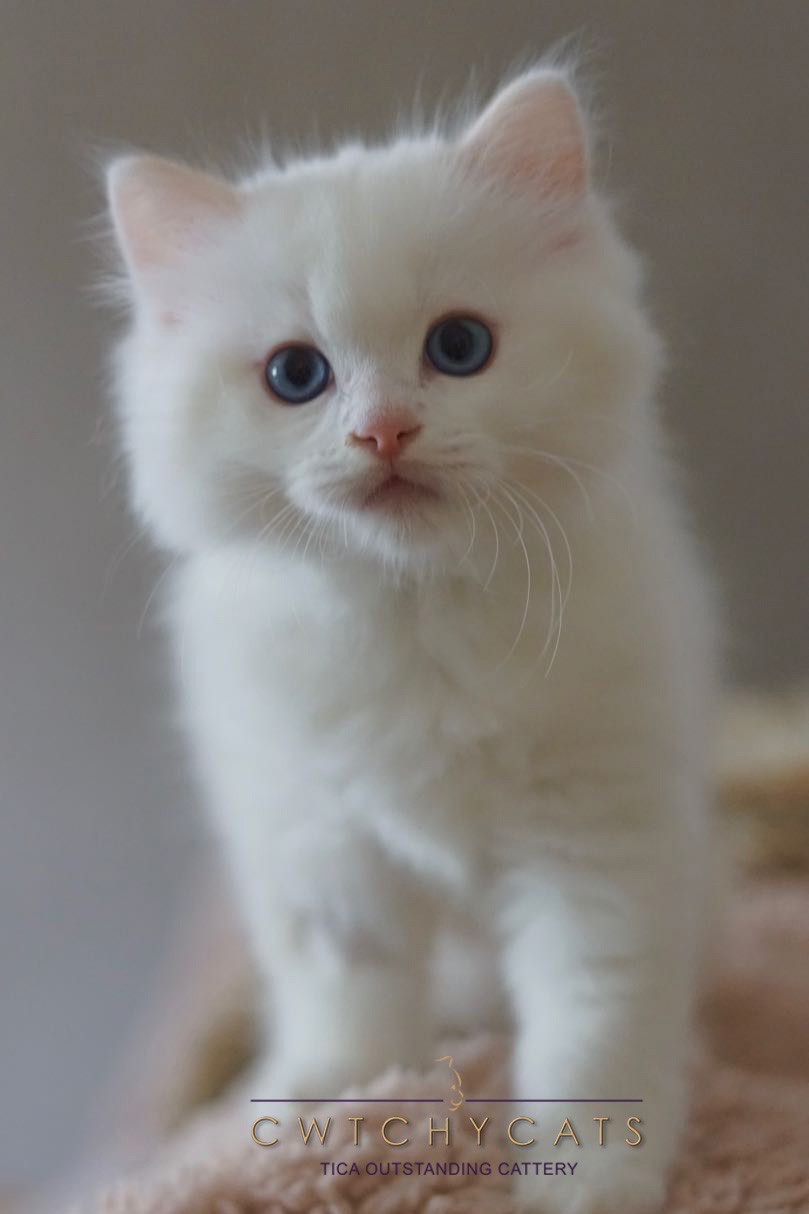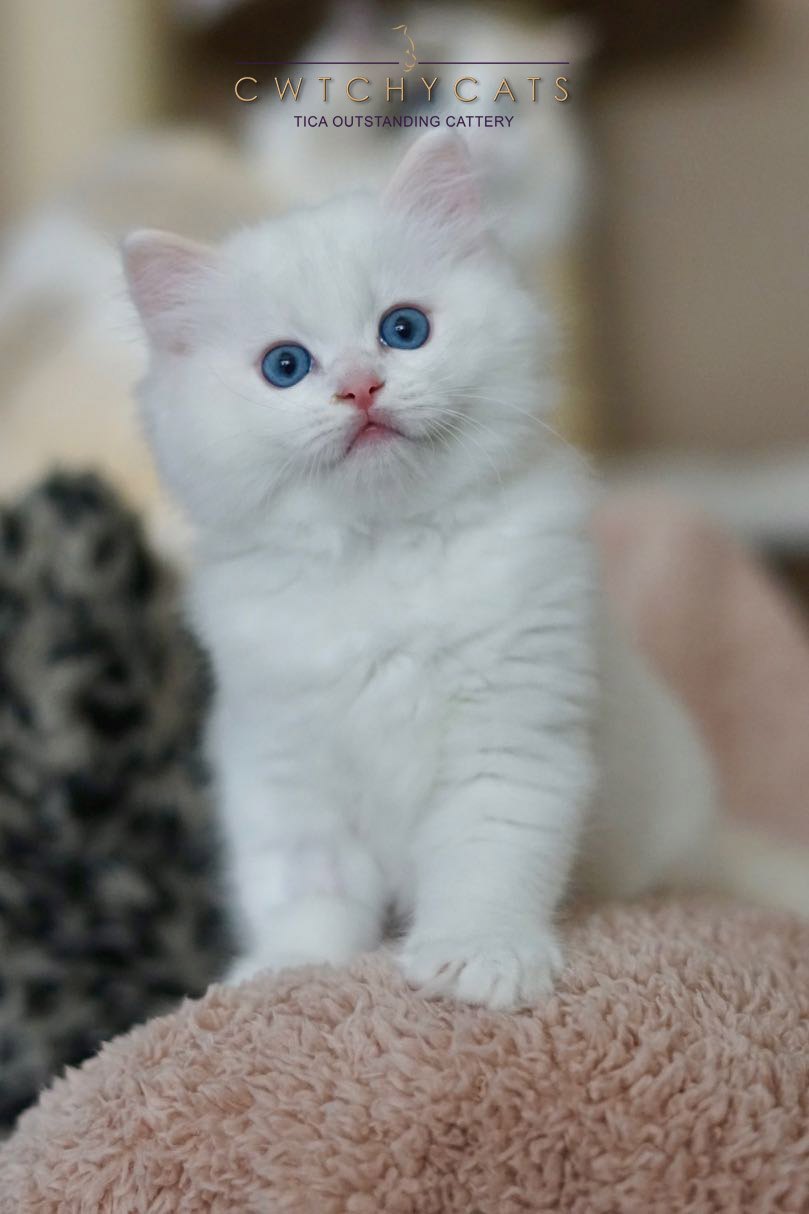 Kai 8.5 Weeks Old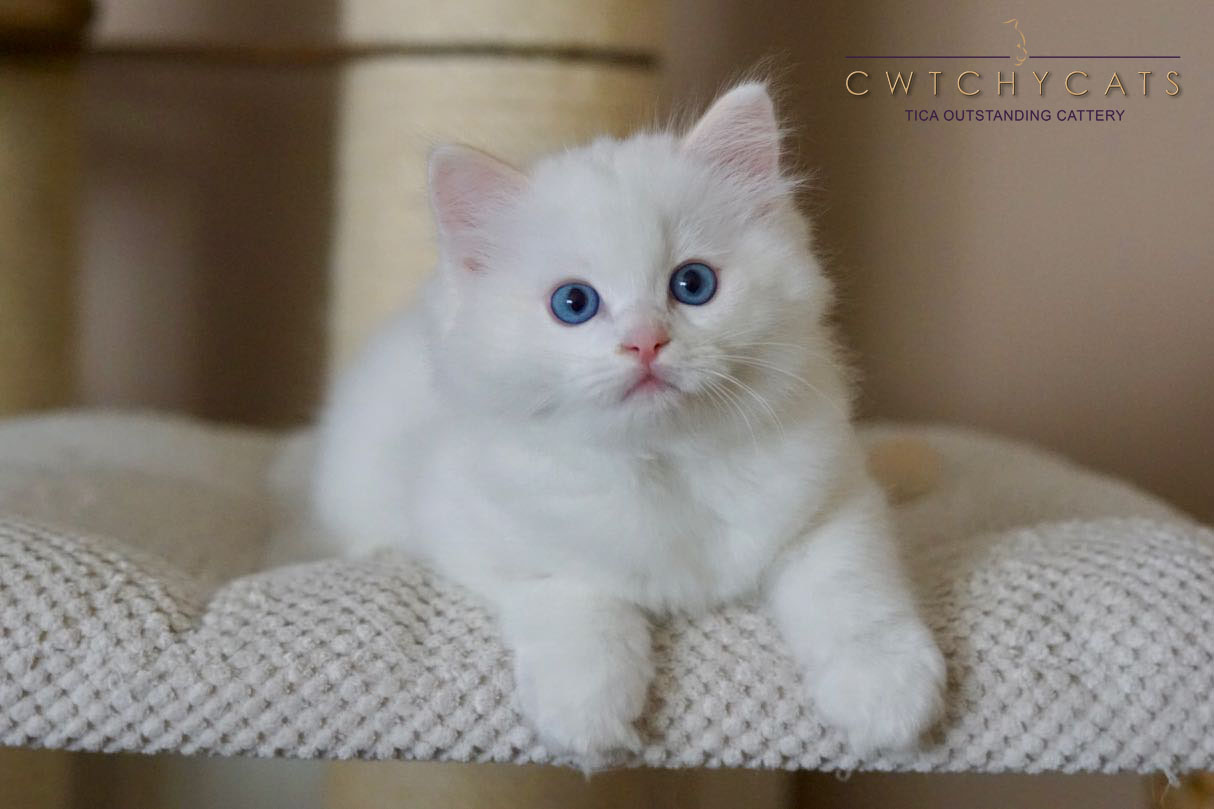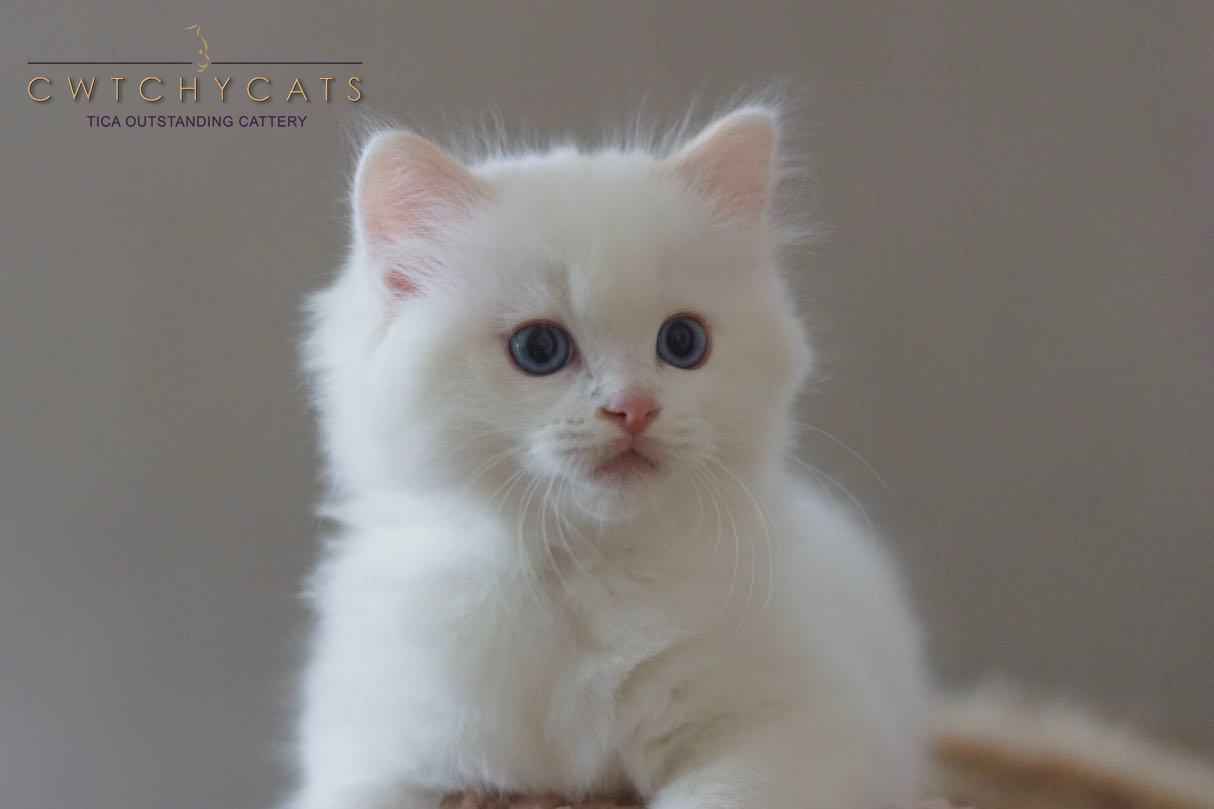 Kai 8.5 Weeks Old
Week 6.
Well, this little man is just so funny - a real character! He is constantly making us laugh with his antics and his poor Mum is now the butt of all his newly learnt pseudo-attack manouveurs! She (mostly) takes it with good humour, but is also thankfully putting him in his place, as and when needed! His new skills this week (other than jumping out and pouncing on his Mum) is the bum wiggle before a pounce (lots of these), he now plays and interacts with toys, climbs scratching posts & small cat trees and has also learned to climb onto our bed for cuddles at night! He eats really well, is 100% litter trained and a total comedian, with very little fear of anything - except for that nasty, vaccuum cleaner that keeps appearing - he isn't very find of that right now. He visited my vet this week and charmed everyone there, he just loves people and isn't afraid to ask for attention and purr the second he is touched!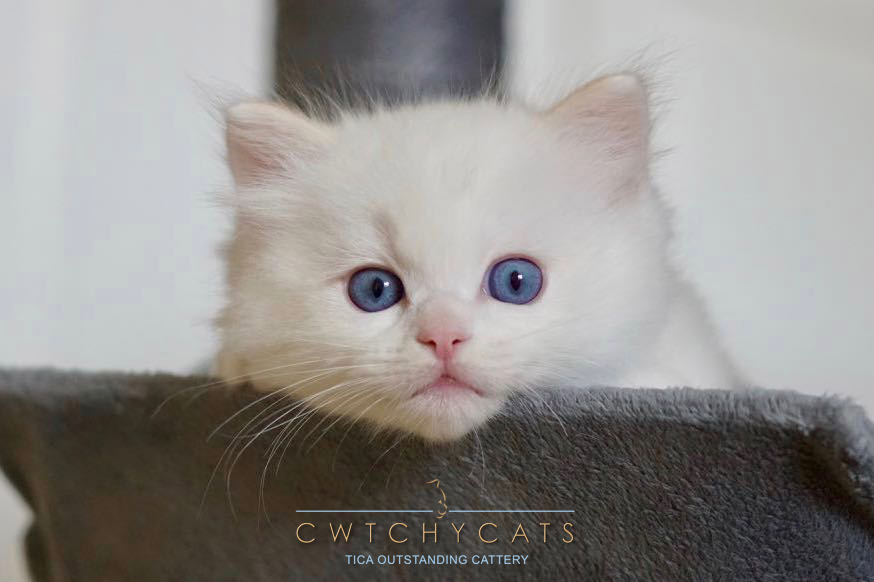 Week 5.
It was another busy week for Kai this week, learning and developing all the time. He has started to climb small scratching posts and is enjoying this lots and is already starting to use them to claw at. He has learnt to jump (usually out from something at his Mum, and has also learnt to do a mini pounce with a little bum wiggle thrown into the mix beforehand! He is also starting to 'crab' when playing, which makes me laugh so much! Mum was poorly this week and went into be spayed and Kai accompanied her to my vets, so she wouldn't stress out so much! He was loved by all, and presented his tummy for tickles everytime my vet went anywhere near his cage, which allegedly was often! ;) As a result of the anaesthetic going through his Mum, he was poorly for a day, but he soon recovered and was back on fine form very quickly! Ama is now fine, and enjoying life with no hormones!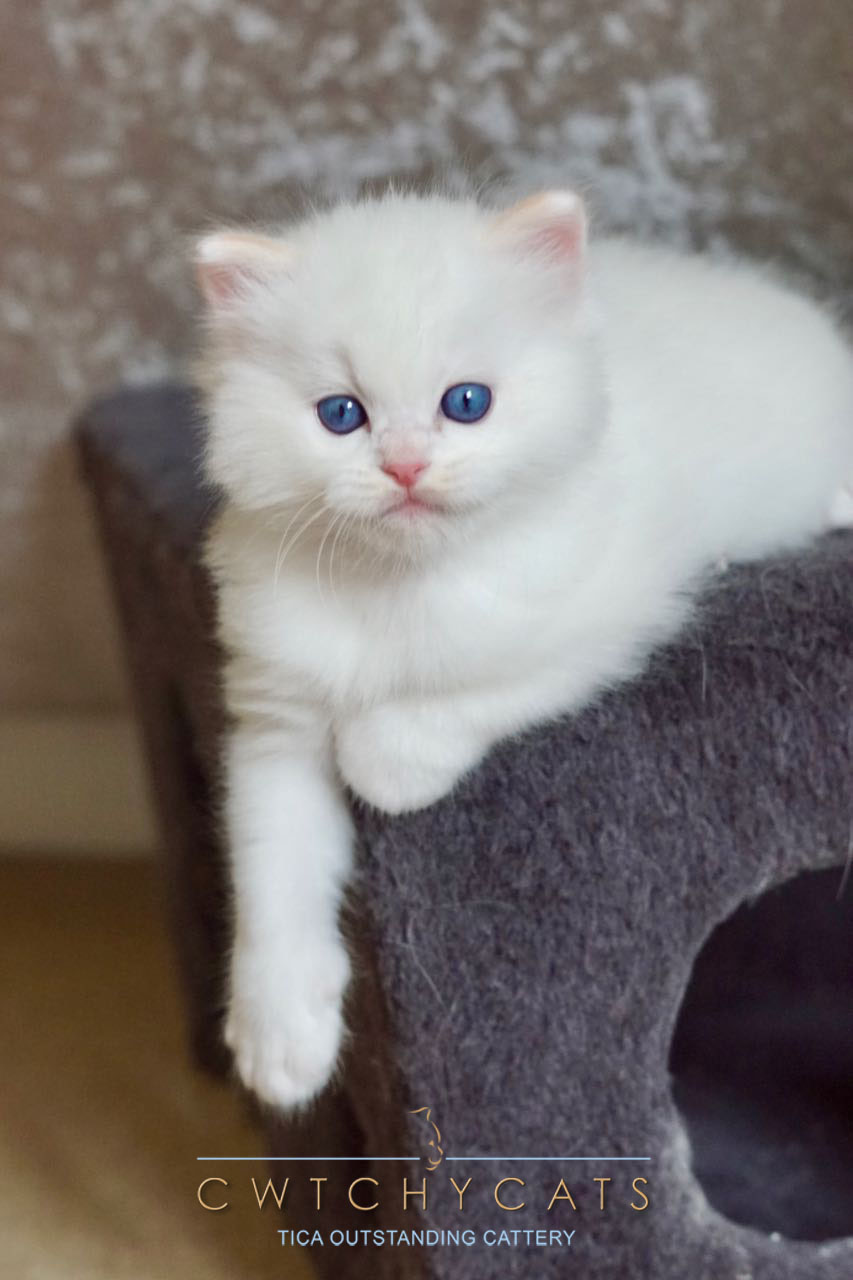 Week 4.
It has been yet another huge week developmentally for Kai. He is wanting (and getting) more independence and has started to run now (albeit in a clumsy, trip over your paws kinda way). He is eating more food and is gaining weight really nicely. He has learnt how to use the litter tray and is a smart little cookie, having had no accidents at all in the process. He is just starting to play and Ama is very patient with him, teaching him things and playing with him. She also tells him off, when he oversteps the mark - which he does on a regular basis! ;) He seems to be a firm believer that boundaries are there to be pushed . . He also has a very endearing habit of moving his ears. If he hears anything, his ears move and if he is unsure of anything, they go down. They resume normal position again when he is confident again, or reassured. He is a dear little man who also insists on cuddles as often as possible, whioch we are very happy to oblige him with!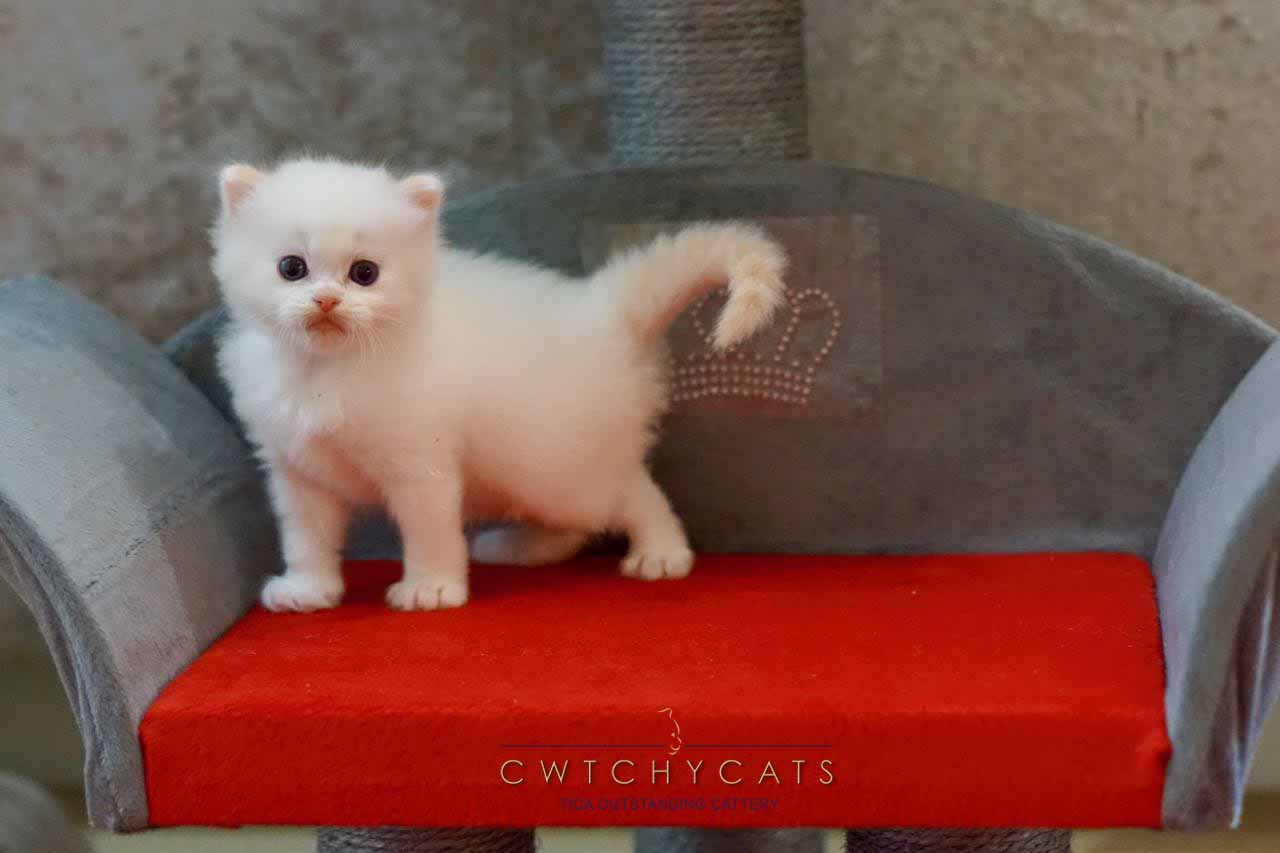 Week 3.
What a week this has been develeopmentally for Kai. He is now walking upright on his legs, rather than the belly crawl he has been doing up to now. He LOVES wet food and has started eating this very early. He is now climbing any and everything he can and driving his poor Mum to distraction already! This boy, even at just 3 weeks old, has such a joy for life and is a huge character already!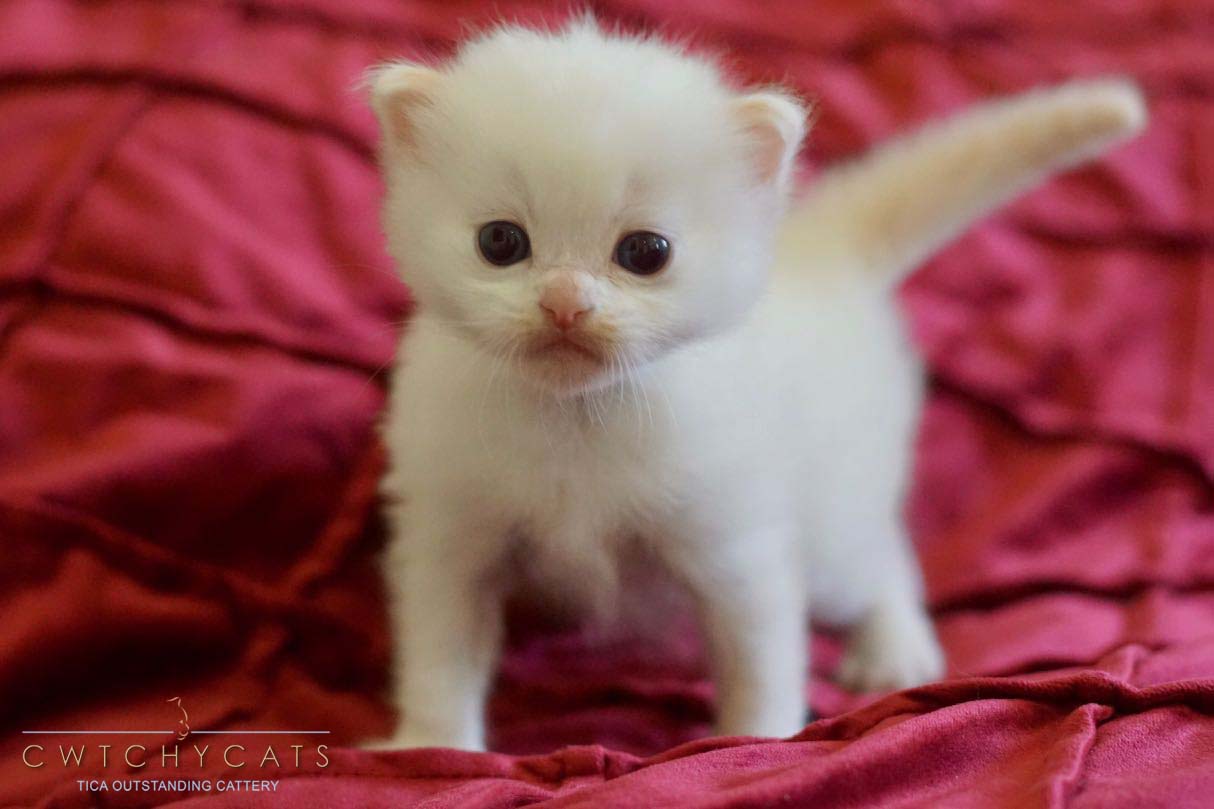 Week 2:
Kai is doing really well and is totally adored by his Mamma. His eyes are now open and his ears are continuing to come away from his head and he can now definitely hear. I dropped something next to his birthing box the other day and he hissed at me (!!!) so I know this is the case. He is gaining weight nicely, and still very happy for now, to stay at the milk bar and / or snuggling into Mum. He has had a few moments where he has got 'beached' on his back and takes a while to right himself and he has started to move around the birthing box a little more now.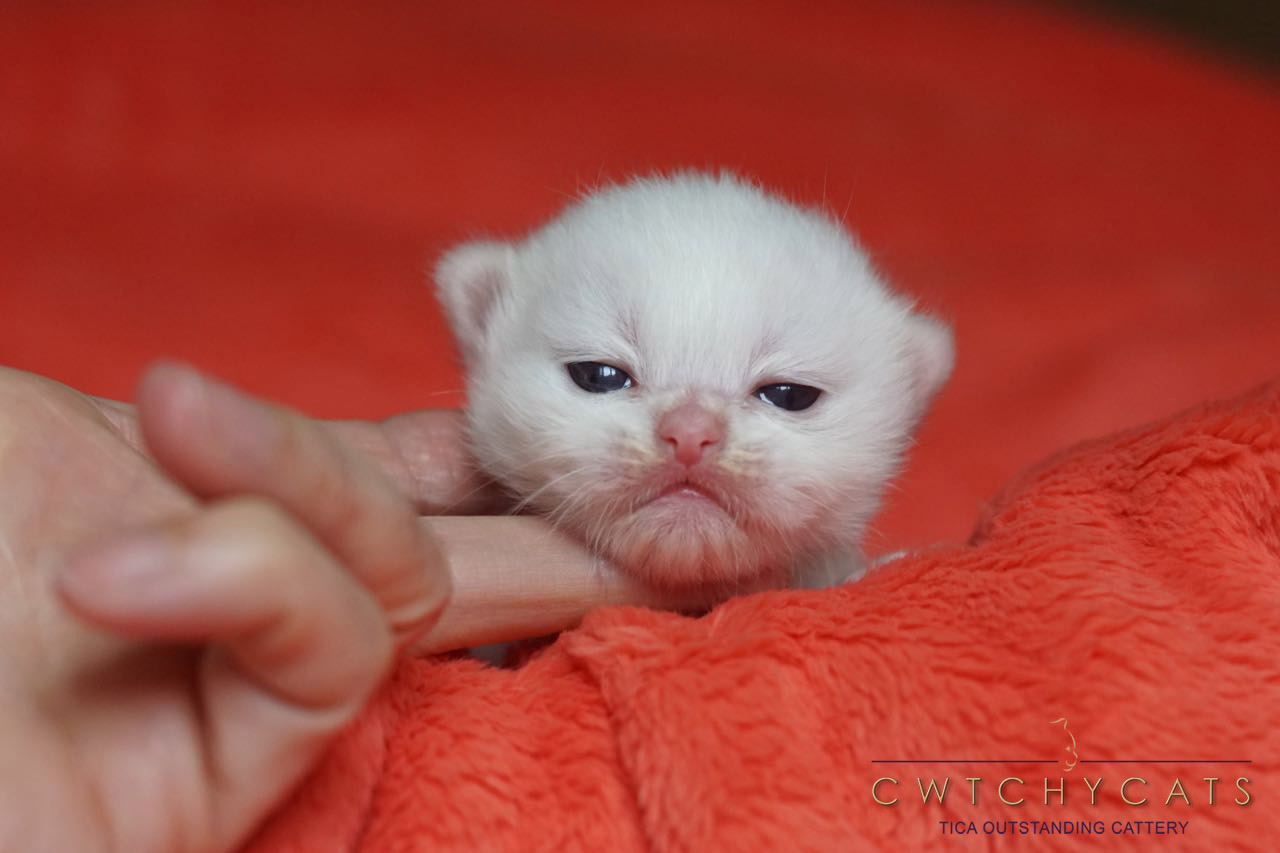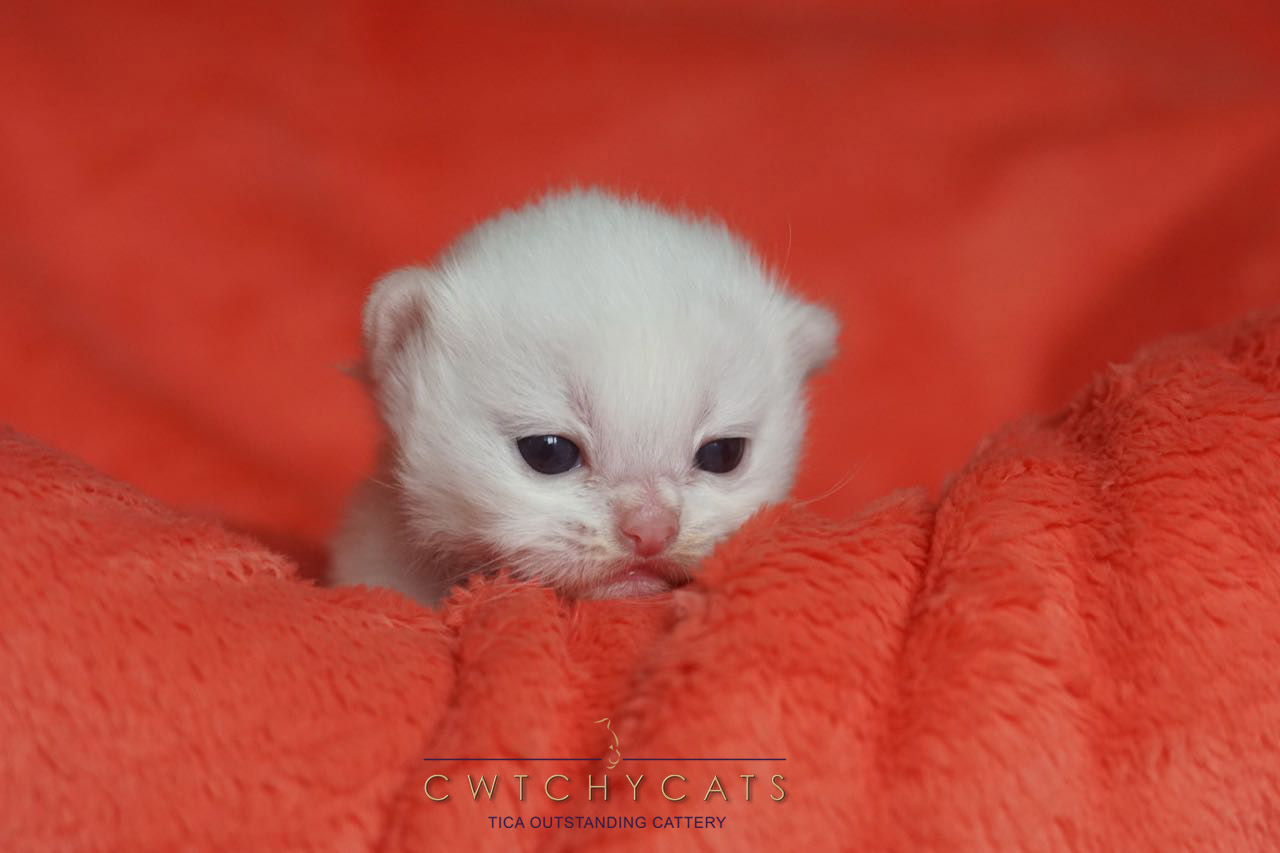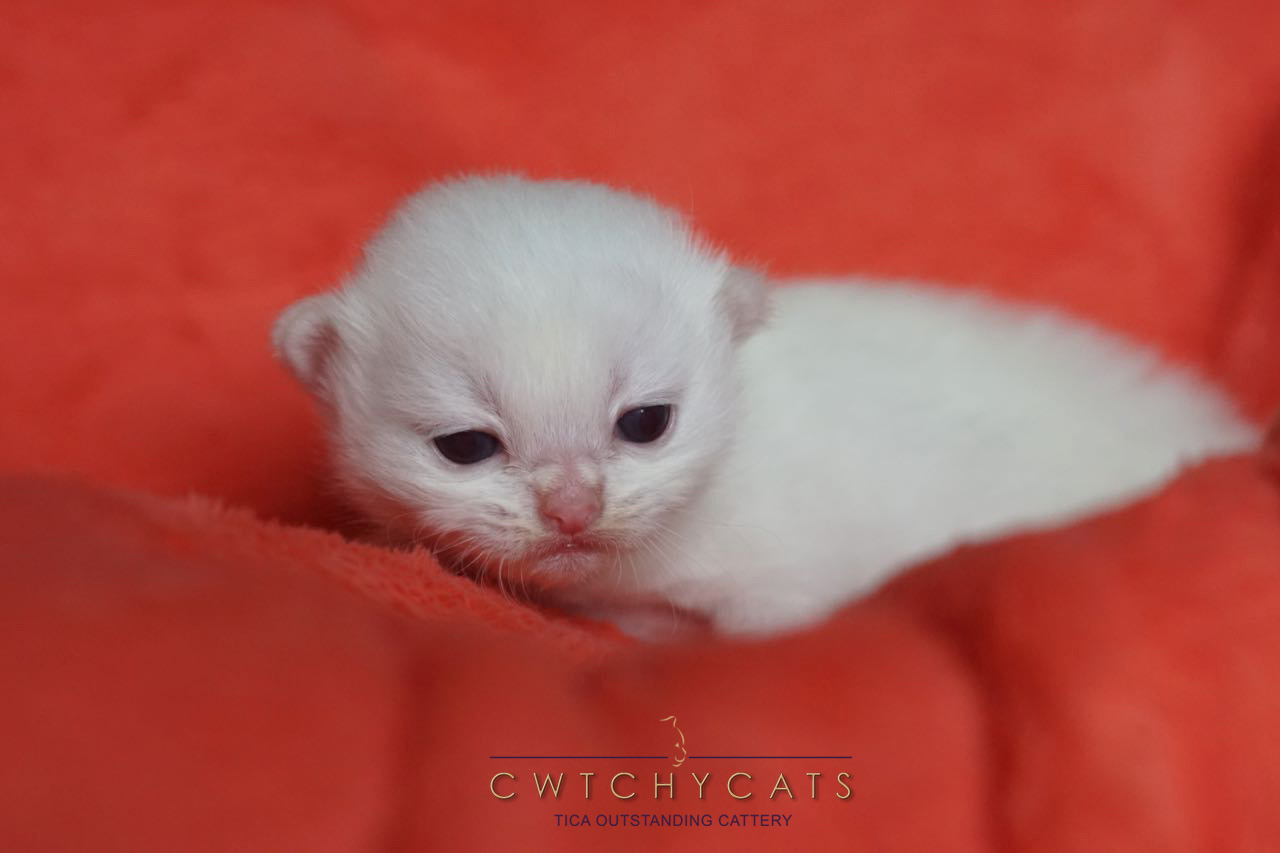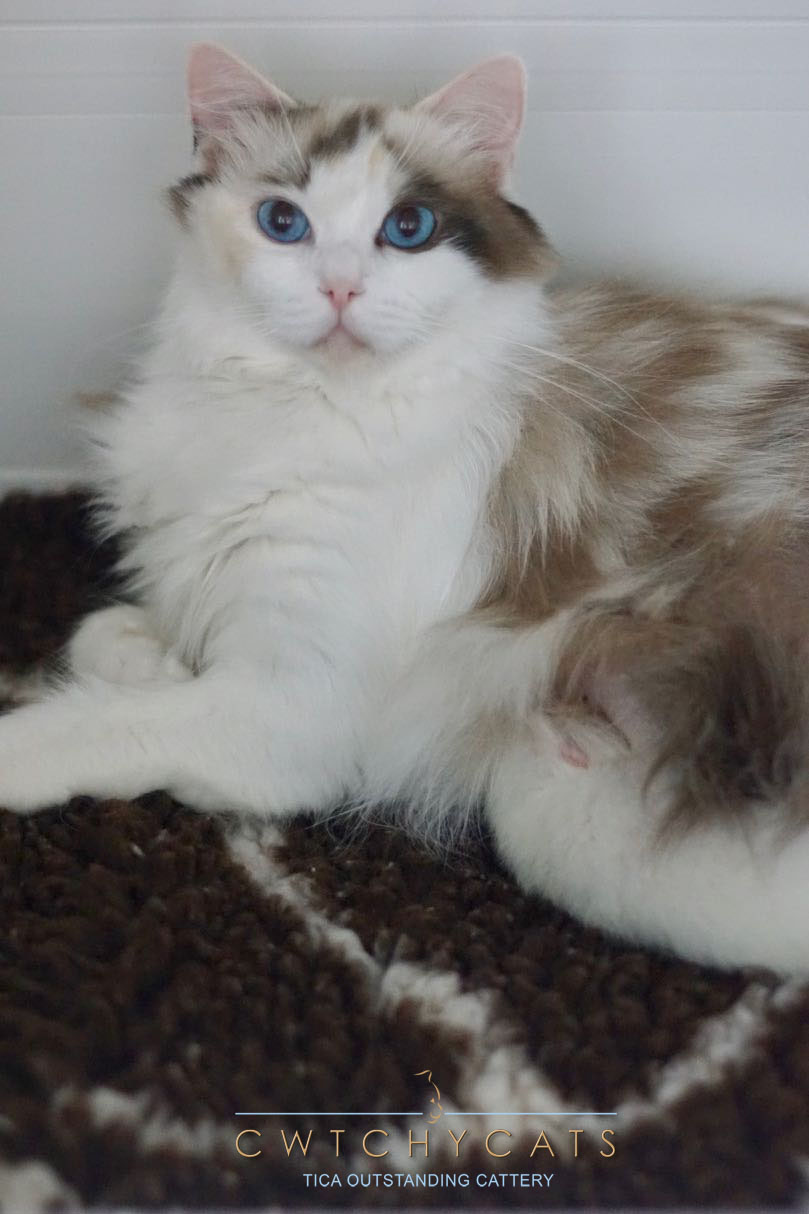 Week 1:

Kai is already a week old and is doing really well. His Mamma adores him and being on his own, he is getting the entire milk bar to himself, so is gaining weight nicely he has already doubled his birthweight. His eyes are still closed at the moment, but his ears are just starting to come away from his head a little, so he probably has a little hearing. He is getting lots of cuddles from us, when Ama allows it!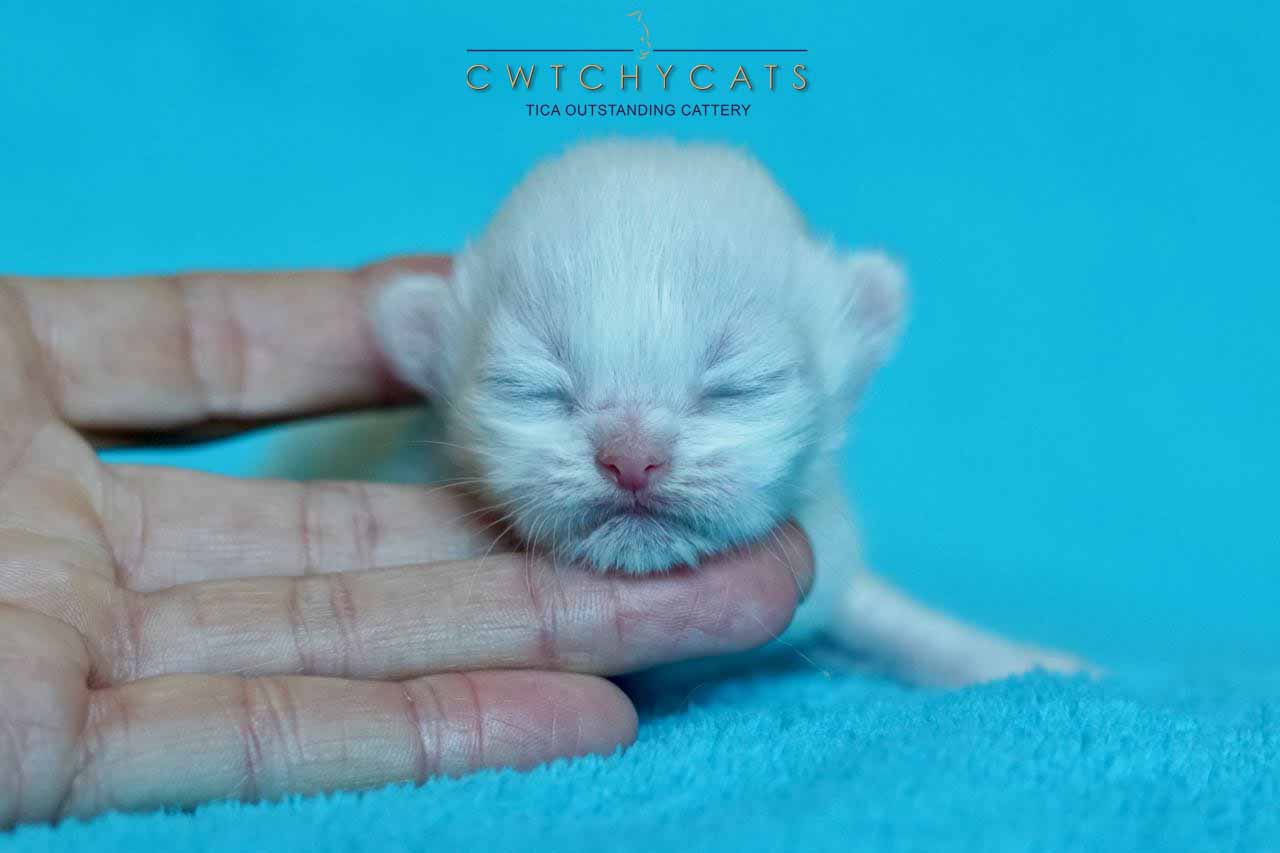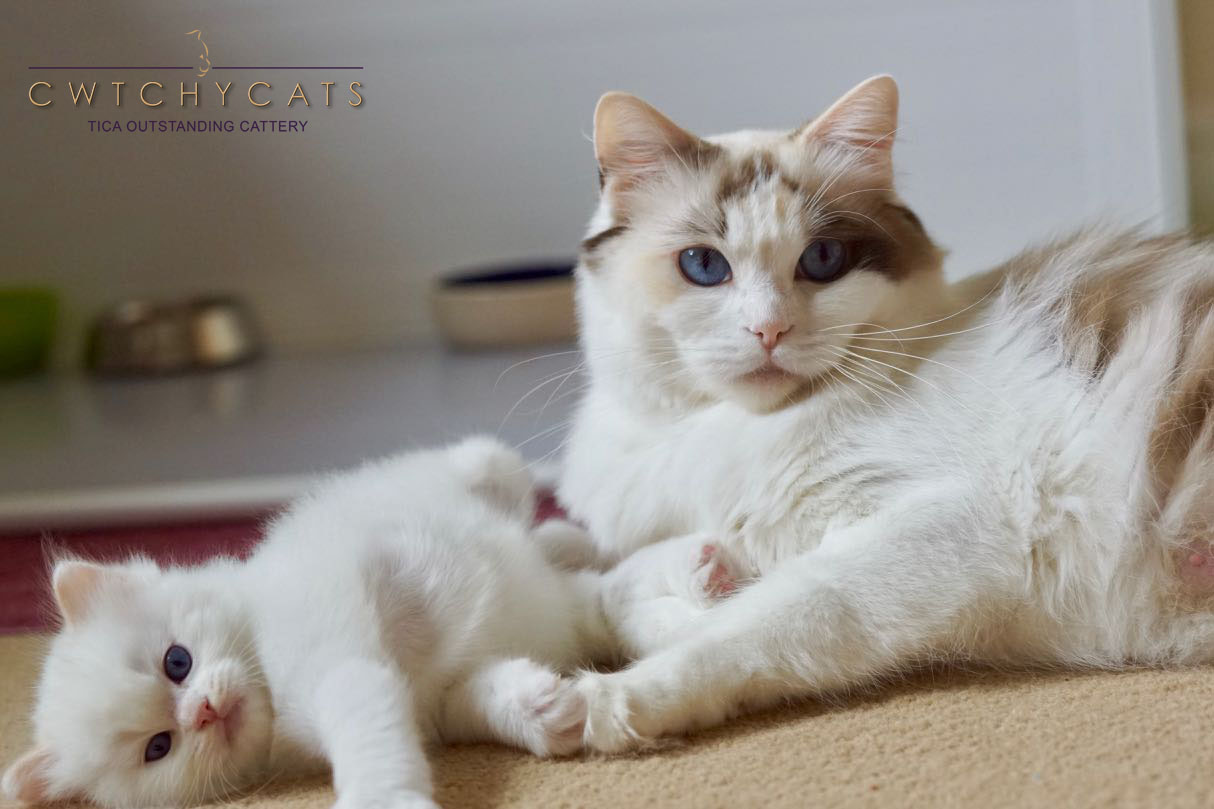 Kai & Ama 5.5 Weeks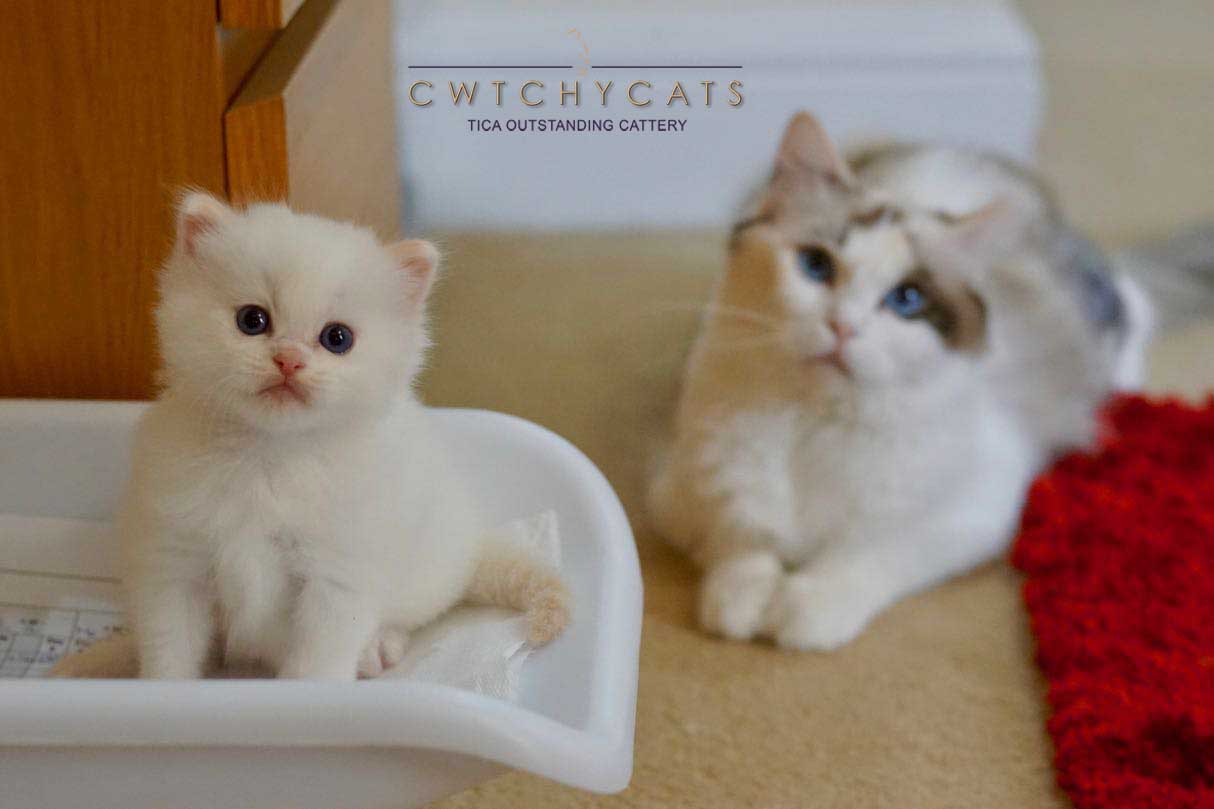 Kai (being watched by Ama) 4.5 Week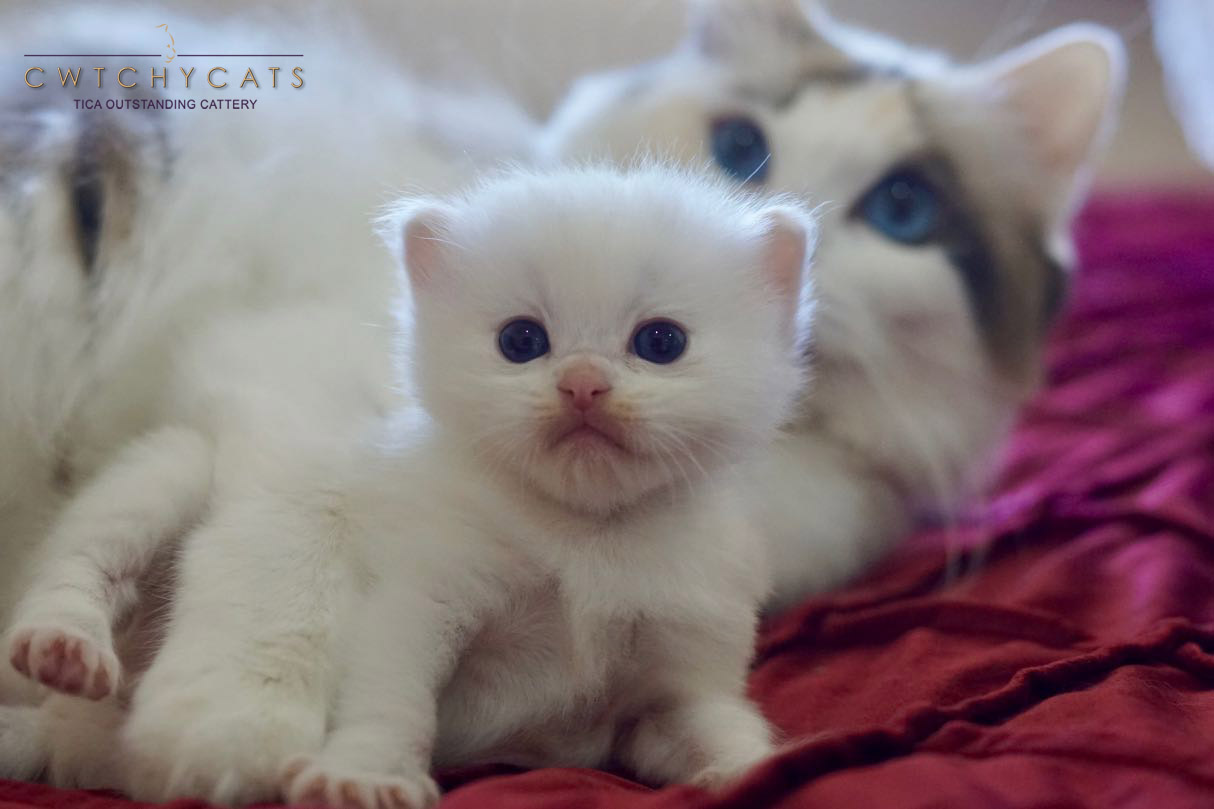 Ama with Kai at 3.5 Weeks Old

Ama with Kai at 2.5 Weeks Old

Kai - 3 Days Old