Quadruple Grand Champion (QGC)
Cwtchycats Lotus Elise (Elise)

♥ ♥ HCM Echocardiogram - Normal - February 2019 ♥♥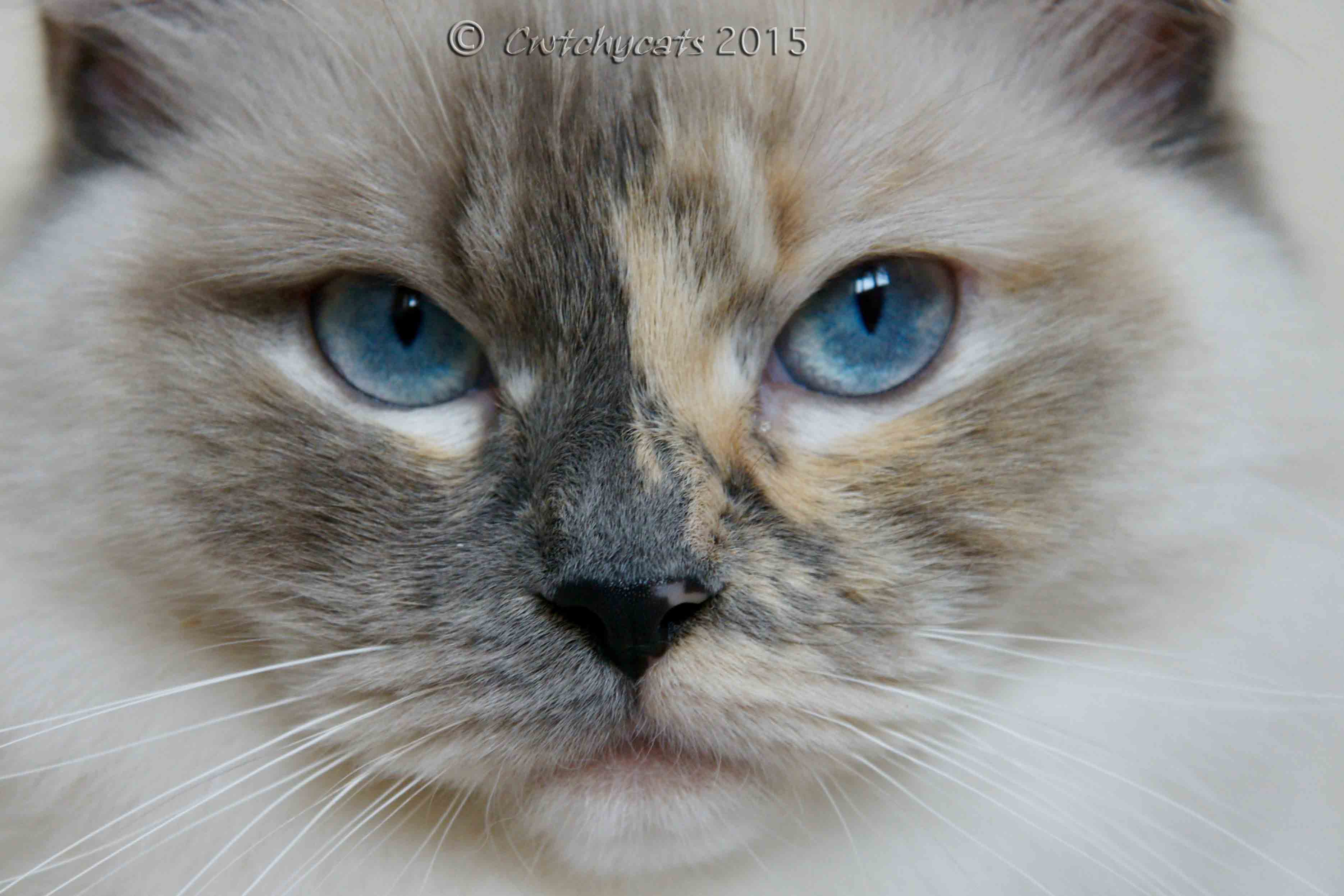 Elise - 18 Months
Elise Family Tree

Colour: Blue / Cream Tortie Point
Pattern: Mitted
Carries: Chocolate
Test Results:
FIV - Negative
FeLV - Negative
♥ ♥ HCM Echocardiogram - Normal - February 2019 ♥♥
HCM (DNA) Ragdoll - Negative
HCM (DNA) Maine Coon - Negative
PKD (DNA) - Negative
Blood type - A or AB (Carries AB)
MyCatDNA Health Checks (Over 40) - all clear

Elises' TICA Awards:
Quadruple Grand Champion
Best Blue Tortie Mitted Ragdoll Worldwide 2016 / 2017
Best Blue Tortie Mitted Ragdoll EW Region 2014 / 2015, 2015 / 2016, 2016 / 2017
2nd Best Tortie Mitted Ragdoll Worldwide 2014 / 2015 & 2015 / 2016
Elise has now been retired from breeding. She will be looking for a new home around April 2020. For further details and information, please click here.
Elise is the Best Blue Tortie Mitted Ragdoll in the world (as well as EW Region) with TICA for the 2016 / 2017 show season! She's now retired from showing - talk about going out on a high!

Elise was awarded the Best Blue Tortie Mitted Ragdoll in EW Region for the 2014 / 2015 & 2015 / 2016 & 2016 / 2017 Seasons. She was also 2nd Best Blue Tortie Mitted Ragdoll in the world for the 2014 / 2015 & 2015 seasons! We're very proud of this sweet and gentle girl.
Elise is our beautiful, confident and sweet girl that we bred from RW QGC Make it Mine Cwtchycats Mr Bojangles (Bo) and Ariella Florida. She is a super sweet girl, loves cuddles, plays hard and has great type and size. She has had one litter for us and we kept her daughter, Cwtchycats Busy Being Fabulous (Amy), who is developing so well. Elise delivered her second litter for us in June 2017 - Daddy this time is Finn. She had one little boy and two girls - all 3 are living as adored pets with their humans and one girl lives with her feline Grandmother (Florida)!
Elise has done brilliantly at TICA shows and is now a Quadruple Grand Champion! She has had an amazing show career, but is now retired from the show bench to make some more beautiful babies for us!
Elise is is registered with The International Cat Association (TICA).
Elise has tested 'normal' in a genetic test for the MYBPC3 gene, associated with HCM, also 'normal' for PKD and 40 other health tests at MyCatDNA and therefore her kittens will also be clear for these known defective genes (all of our breeding cats have tested negative for these defective genes). She is also from parents that had recent echocardiograms with our feline cardiologist prior to their mating!