Cwtchycats Creme De La Creme (Enzo)
♥♥ HCM Echocardiogram - Normal - August 2020 ♥♥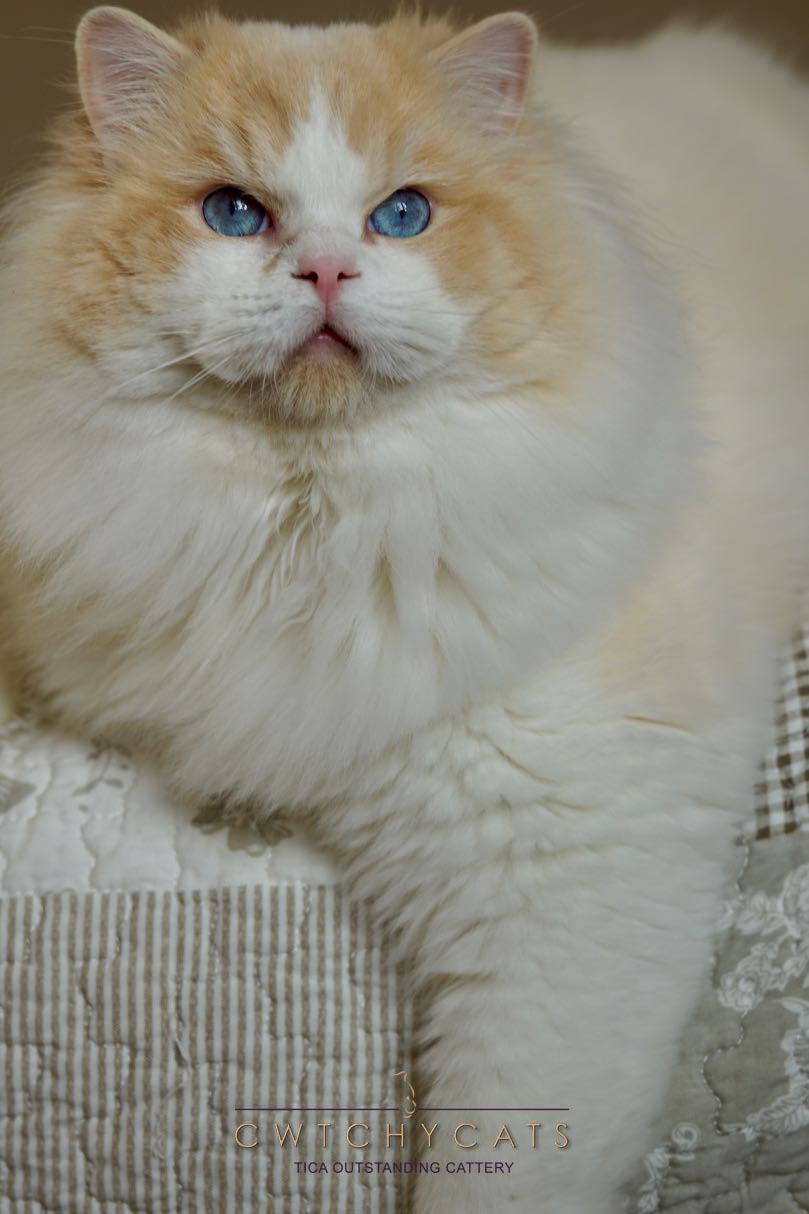 Enzo 16 Months Old
Enzo Family Tree

Colour: Cream Point
Pattern: HM Bicolour
Carries: N/A
Test Results:
FIV - Negative
FeLV - Negative
HCM (DNA) Ragdoll - Negative
HCM (DNA) Maine Coon - Negative
♥♥ HCM Echocardiogram - Normal - August 2020 ♥♥
PKD (DNA) - Negative
Blood type - A or AB (Does not carry b)
MyCatDNA Health Checks (Over 40) - also clear
Enzo is my golden child! ;) He was never meant to be staying, but watching him battle from the tiny premature-like baby he was when born, to the utter beauty that became, just assured me that he wouldn't be leaving us, it took a bit of persuading Chris, but we got there eventually! ;) Watching him grow and develop was like watching a stunning butterfly emerge from a fairly ugly chrysalis!
His parents are my beloved Calli & Finn, and we feel he has the perfect mix of both parents. We love the type on this beautiful boy, but his temperament is even better! He is so, so sweet - he is always purring and looking for cuddles, or rolling onto his back, legs akimbo, for tummy rubs! He is so special to me, and I am so excited to see what kittens he can help make for us in the future. Of course, any daughters of his will ALL be torties, so that is very exciting for us, as we do love our torties.
Enzo is registered with TICA and is strictly at closed stud for our girls only.
Enzo has tested 'normal' in a genetic test for the MYBPC3 gene, associated with HCM, also 'normal' for PKD at MyCatDNA and therefore any kittens of his will also be clear for these known defective genes (all of our breeding cats have tested negative for these defective genes). He was also examined and scanned by our feline cardiologistin February 2020 and his heart is in perfect condition.