About Us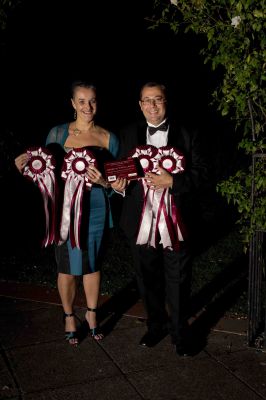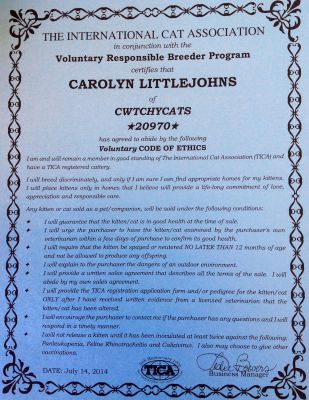 Chris & I at the TICA EW Region Awards Our TICA Responsible Breeder Certificate.
Banquet in 2013 with 4 Regional Awards Representative of our commitment to always breed
we were presented the best and healthiest kittens we can.
(Photo by Kristi at 361 Photography).
A very warm welcome to our website. My name is Carolyn and I am married to Chris. We have a small cattery based in the beautiful South Wales countryside just outside Caerphilly. We breed Ragdolls purely as a hobby and just adore their laid back personalities and utter beauty. We also have some household pets, and 2 mad dogs called Ceecee & Meg. Please take the time to explore our website and get to know us and our feline family a little better. If you have any questions, please don't hesitate to ask.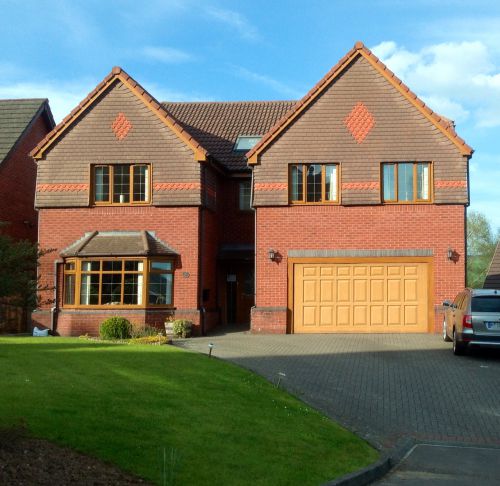 Our Home - Photo Taken By Helmi Flick - May 2013.
As lifelong cat lovers, we take great pride in breeding and raising some of the finest kittens available. We personally care for all of our cats, and feel very blessed to have the opportunity to share our wonderful cats with others who also enjoy their beauty and affection. Our priority is always the welfare of our cats and kittens – there is nothing more important to us than that. Breeding is a hobby for us, and as such we believe in lavishing our cats with the best food, healthcare and equipment and keeping them healthy and happy.
We are experienced, TICA registered, hobby Ragdoll breeders that truly care about our cats and kittens and we believe the difference shows.
At Cwtchycats, we always try to go that step further - from us you will get healthy, well socialised kittens that are true to the breeds' type and size - we stand by that with a health guarantee on every kitten we sell. Please check out the guestbook on this website, which will give you an understanding of the quality of our kittens and the love that goes into them in their formative weeks. We import some top quality lines into the UK to ensure our lines are as diverse as possible and that our inbreeding co-efficient is very low. We test ALL of our breeding cats and we're very proud that all of them are clear of the known defective HCM, PKD & PRA-pd genes that sadly can affect both breeds. We also take our breeding cats to a feline cardiologist to get Echocardiograms of their hearts, to ensure they all have healthy hearts too. We're happy to supply documentary evidence to this effect.


All of our kittens are born in our bedroom and raised underfoot in our home. They are brought up with as much interactivity, love and devotion as they need to thrive and get the best start in life. We use the best quality foods and litters to ensure kittens grow to their full potential and we also have litter robots for our babies, which ensures the cat litter is emptied 10 minutes after they use it 24 / 7 - a massive time saving for us too!! Backing us up in our goal to raise healthy, well socialised kittens is the very best in veterinary care available to us - our cat specialist vets with decades of experience. They are always on hand to us to guide and advise. Also, a feline cardiologist has recently joined our veterinary practice, offering even more expertise for the health and welfare of our cats.



Our kittens tend to be real confident, characters, they love to play hard, and then settle down for a nap on the nearest lap, usually purring. We seek the very best INDOOR only homes for them, where they will continue to receive the love, stimulation and care that they have received at Cwtchycat Towers. We won't consider homing a kitten as an only kitten to homes where the owners are at work all day, as the kitten would be sad and lonely. We would consider two kittens going together in this instance and offer a discount for multiple kittens.
Our kittens leave us at around 14 weeks old, having received at least two veterinary check ups, the full set of vaccinations and all pets will be early neutered. Our vet has been neutering early for many years, and it is MUCH easier on a kitten, than a fully grown adult cat. We never have problems, and the kittens bounce back so quickly from it. For more details on this please visit this page.


Every Cwtchycat kitten will also come with a TICA Registration document, a 4 generation pedigree, 4 Weeks PetPlan Pet Insurance, a contract including our comprehensive Health Guarantee, and a luxury Kitten pack including Wet & Dry Food (and treats) they are used to, Litter they use here, numerous toys, a comprehensive care sheet, relevant information sheets and their very own Cwtch Bed. We are able to offer as an extra, microchipping and personal delivery of your kitten. We also offer support for the lifetime of our cats (and beyond), 24 hours a day, 7 days a week. If for any reason in the future, you are unable to care for a cat from us, we will take it back and find the right home for it.


We have attended courses covering cat care, genetics and health issues at Langfords Veterinary Centre in Bristol University and are awaiting enrolment on another in depth cat care course. We try and keep up with the latest courses and information about the breeds and have an excellent understanding of the genetics our beautiful breeds.
We always seek the best forever homes for our kittens, and are available with advice whenever required. We don't believe in mass production of kittens. Our goal is to raise well socialised, healthy, intelligent, beautiful looking, cats with superb natures and type, that contribute to the advancement of our chosen breed & diverse gene pool, and their points of standard. We DO NOT believe in inbreeding at Cwtchycats and ensure our cats are from as diverse lines as possible!


We always ask new owners of our kittens to keep in touch and let us have occasional updates and photos of our babies in their new homes. We are responsible for bringing these babies into the world and we take it very seriously. A lot of our kitten owners are now close friends and enjoy sharing their cats with us! We have a dedicated page on Facebook, showcasing Cwtchycats - Past and Present - we would love to see you there! Please take the time to read our Guestbook Page , for feedback from previous kitten owners for peace of mind about the experience of buying a kitten from us and our ethics and love for our cats.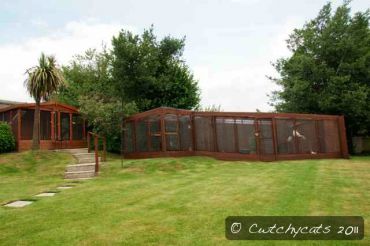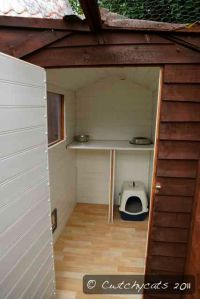 Our Catteries / Play area and one of the fully lined and insulated cat areas.