Adults Available

We currently have 1 retired, adult cat that is looking for her home - we have also neutered a further 3 cats that will be looking for their new homes around mid December.
Millie is available now, and is a stunning seal tortie point mitted Ragdoll girl that we imported from Malta. Sadly, she wasn't suitable for breeding, so we are looking for a loving forever indoor only home for her with no other cats. She would like someone at home most of the time, as she loves human company. She would be fine with older children that know how to respect animals, and would also be fine with a cat friendly dog, with appropriate introductions. We would prefer her to be an only cat, as she isn't keen on other cats around her.
Millie is 18 months old and an exceptionally playful girl. She is very loving, adores human company and can be quite mischievous! She is up to date with vaccinations, had an echocardiogram in the summer, so we know has a healthy heart and is a healthy, happy young lady - she has been spayed. She uses the litter tray 100% of the time and is a real joy to be around!
If you have any other questions, don't hesitate to email me here!

Coming soon:
<All 3 cats will be looking for only cat homes please>!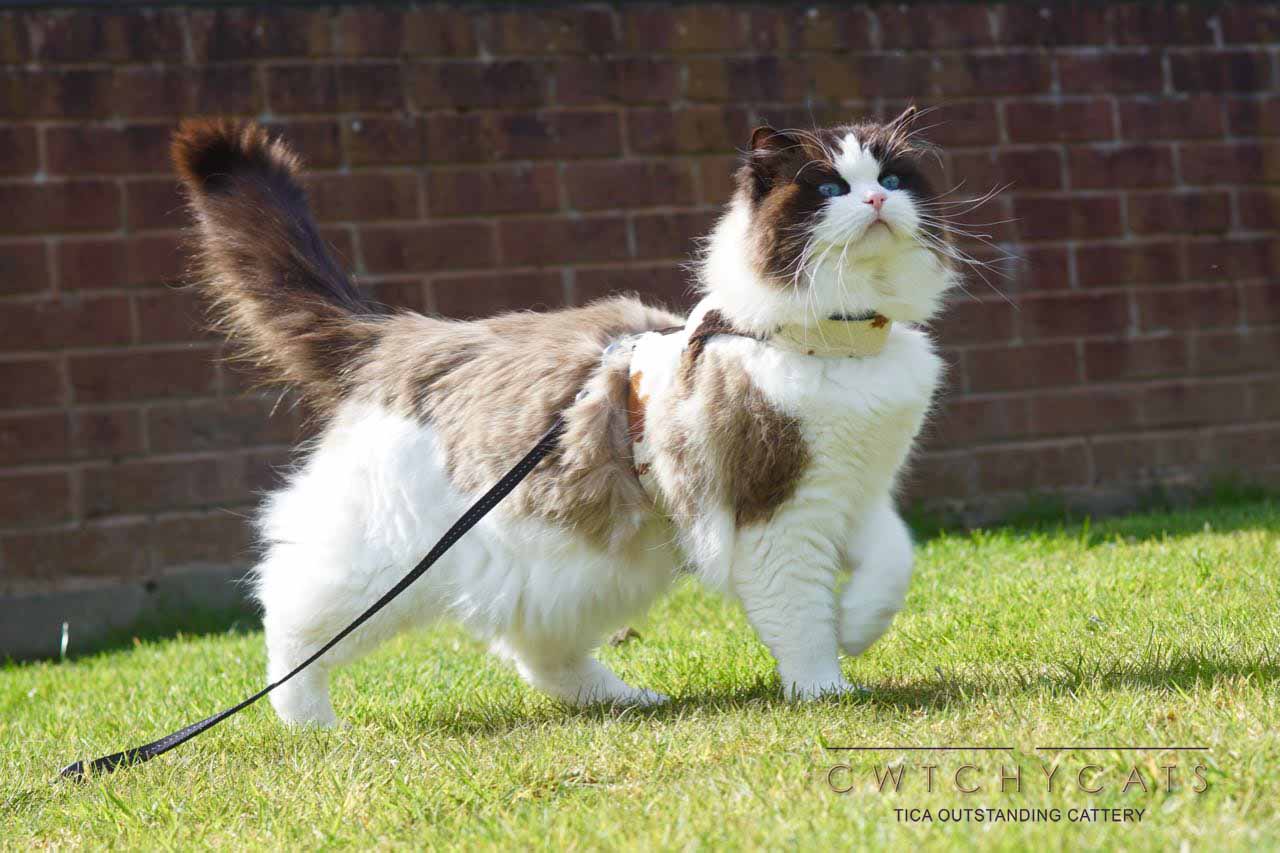 *** Our Kitten & Adult Waiting Lists are now open again!
<Please contact us, for our questionnaire if you would
like to join it>! * * *
~ * ~ * ~ * ~ * ~ * ~ * ~ * ~
All cats and kittens will come with our full support and advice that may be needed in future times and our assurance that should your circumstances change and you're unable to keep them, they can come back to Cwtchycat Towers or we will assist in finding them new forever homes - this is in our contract!

If you think you may like one of our cats to come and live with you, please contact us and we will send you our kitten questionnaire. Without exception, ALL of our cats MUST go to indoor only homes where they will be loved, played with, adored and groomed regularly and we will require regular updates on how they are doing in their new homes. A contract (similar to this) will also need to be signed prior to their departure. In return, we will be here with support 24/7 if you have any problems or need any cat related advice in the future. This applies to ALL of our kittens or cats.