Cwtchycats Foundation Lines
The cats you will find on this page, have all played a part in the history of Cwtchycats. For various reasons, we decided when we started breeding over 12 years ago that we would import our Ragdolls from various countries, and this is a policy (with a few exceptions) that we have continued to the present day. This has allowed us to get our inbreeding co-efficient as low as we have, whilst keeping our Genetic Diversity as high as possible. We are grateful to these breeders for entrusting these amazing cats with us, which have enabled us to breed the healthy, large, beautiful and sweet cats that we produce today.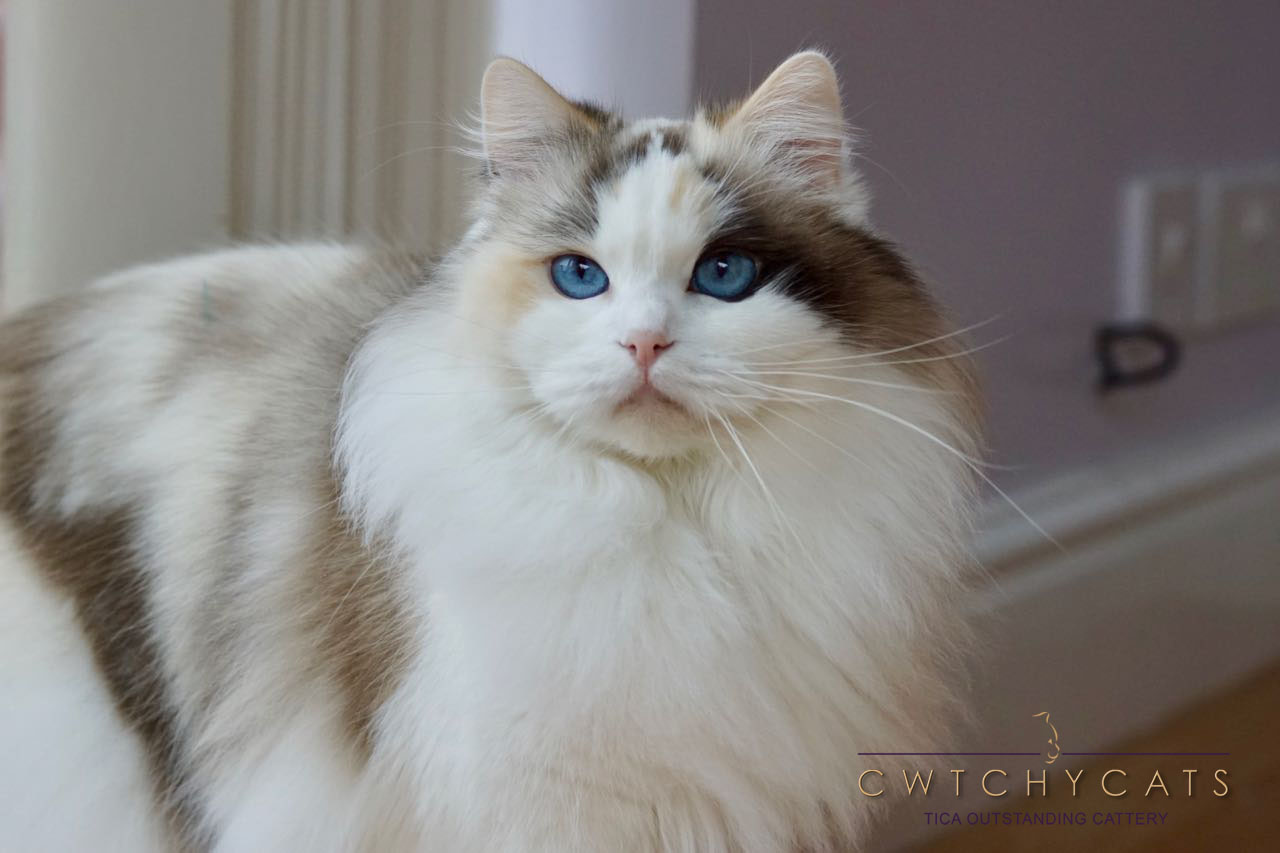 Ama is a seal tortie bicolour girl that we bred here at Cwtchycat Towers. Mum is Sapphire and Dad is Spud. She has had 2 litters for us, all of which were stunningly beautiful kittens with wonderful temperaments. Sadly, we didn't keep any offspring from Ama, but 2 girls are with breeder friends, so it is possible in the future we may get this line back again. Ama is now retired with a family in Northamptonshire.


Cwtchycats Whatchamacallit (Calli)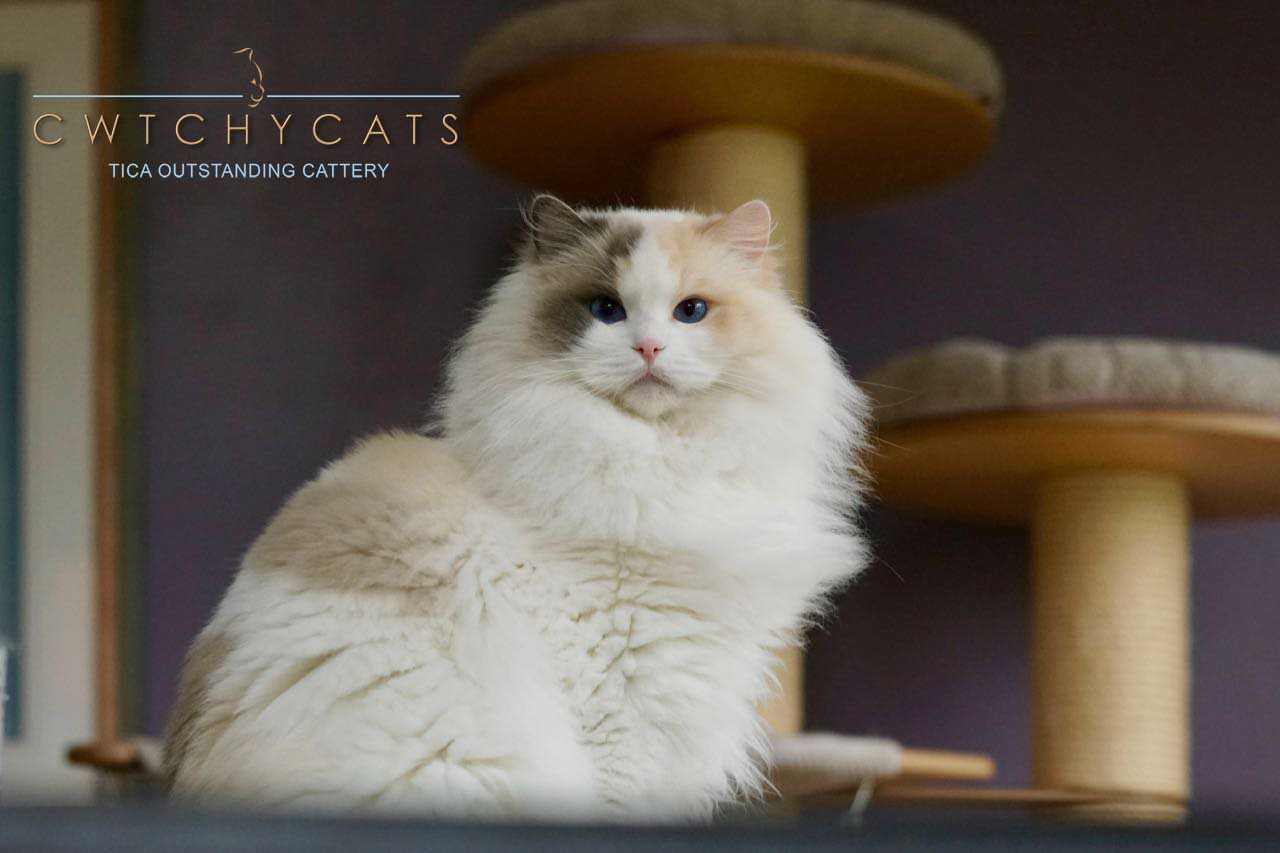 Calli is a blue tortie bicolour girl, a sister to Ama above and daughter of Sapphire & Spud. She had an absolutely stunning litter for us with Finn. 2 breeder friends have 2 boys from this litter - one in Florida and the other in New Zealand and her son Enzo has remained here at Cwtchycat Towers - we hope as a future breeding boy. We hope that Calli will remain here with us at Cwtchycat Towers as a much loved pet.

Sassy (Cwtchycats Imtoosexyformyfur)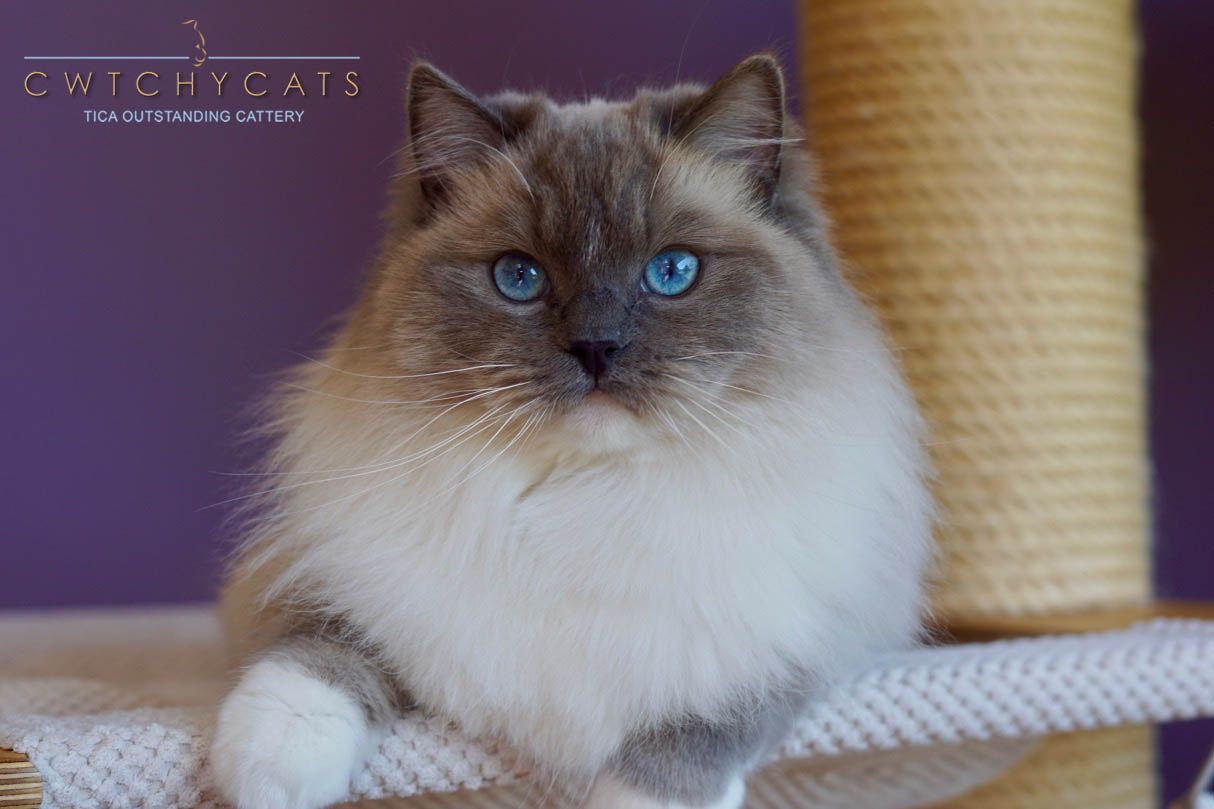 Cwtchycats Creme De La Creme (Enzo)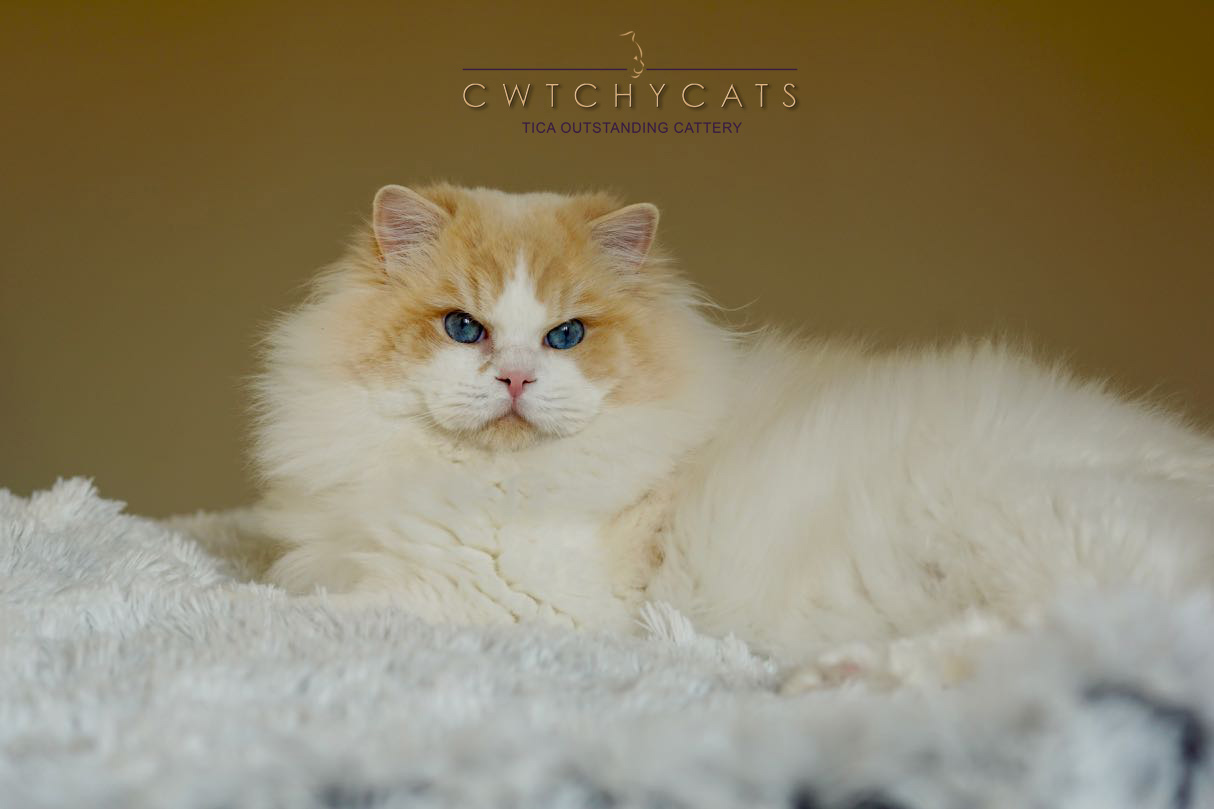 Enzo is a beautiful Cream Point Bicolour boy from Calli and Finn. He had a few litters for us and is now a retired and much loved pet. Such a sweet, sweet boy and he passed this trait onto all of his kittens. A beautiful boy - inside and out!

Finn (Wattuwarpan Wihsel Jesse of Cwtchycats)

Finn is a gorgeous seal bicolour boy who came to us from Tiina at Wattuwarpaan Ragdolls in Finland. He is a beautiful boy, inside and out - clearly he is stunning looks wise, but he has the sweetest, most loving temperament too, which he has passed on to his kittens. He has left a huge legacy here at Cwtchycat Towers. Currently two of his sons (Enzo & Magic) as well as his daughter, Ava, and his granddaughter, Boo are within our breeding program. He also has offspring in several breeding programs around the world, including France, The US and New Zealand. Several of his kittens are doing exceptionally well on the show bench around the world and in different registering bodies. We are so proud of this boy and what he has achieved, both for us, and the breed. Happy retirement beautiful boy!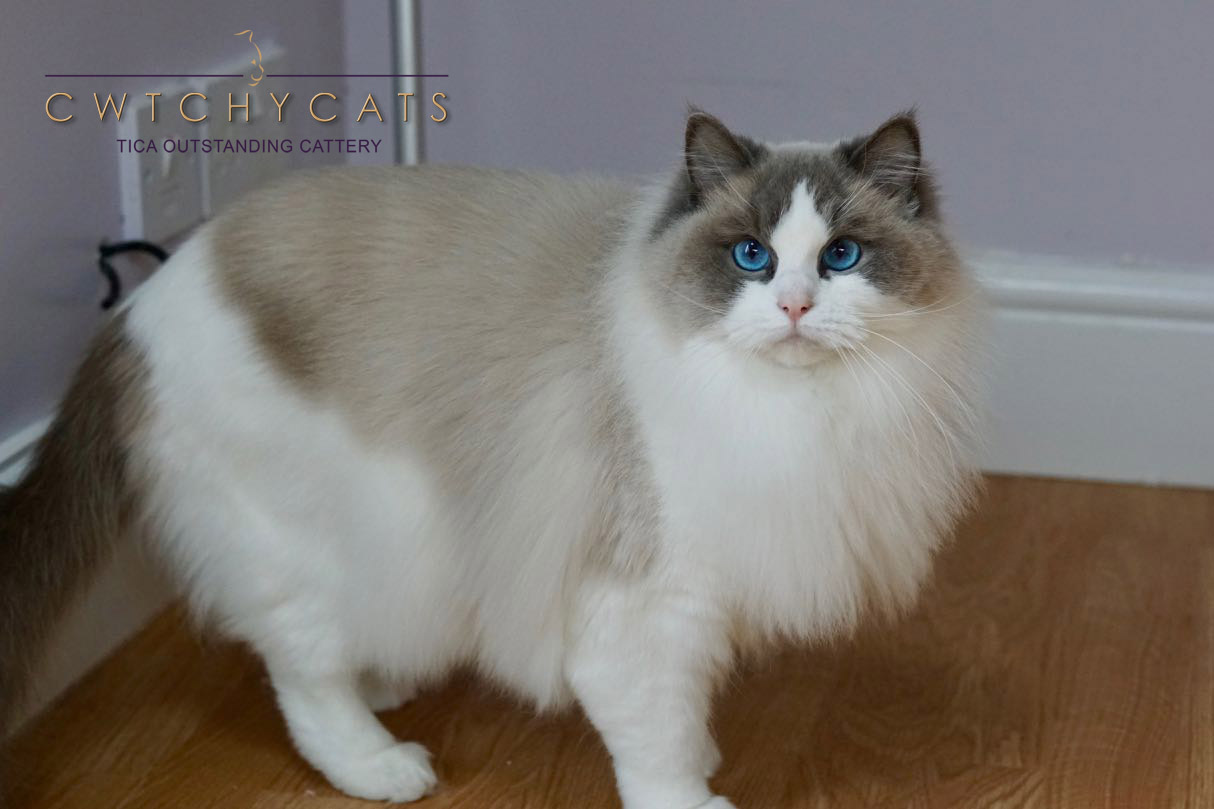 Dharma is a home bred girl from Visage and Spud and is a stunning example of the breed. She is one of our biggest girls and the best Mummy ever. Sadly, she is struggling now in a multi cat house, so she has been spayed and when recovered, will be looking for her very own cat-free family to love her! We have kept 2 daughters from her (and Uli) - Sassy & Keira who we hope will continue this fantastic line for us.Happy retirement Dharma, you are such a beautiful girl, who has done us and the Ragdoll breed well!
Quadruple Grand Champion (QGC)
Cwtchycats Lotus Elise (Elise)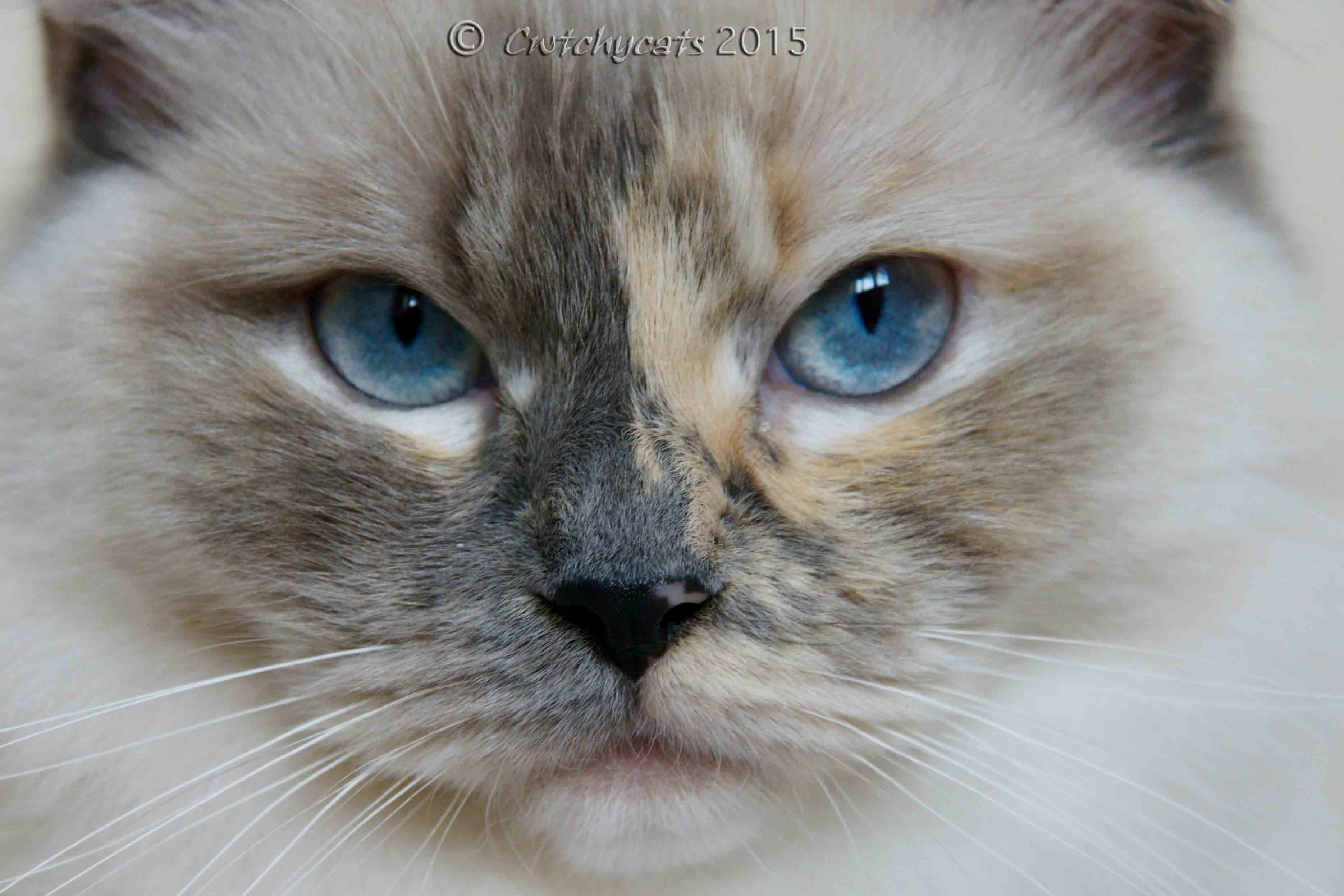 Elise is a beautiful blue tortie point mitted girl from Bo & Florida. She loved the show bench and did exceptionally well on it, ebding up a Quadruple Grand Champion with TICA. She had 3 litters for us, and we kept her daughter Amy, sadly, she never had kittens for us, and she retired last year. So unfortunately, Elise is the last of her line with us.
Mirumkitty Sapphire Dreams of Cwtchycats


Sapphire is a seal tortie bicolour girl that came to us from Hungary (via The Netherlands)! She was a small girl and struggled birthing, so she had one litter for us with Spud before retiring. Both kittens in this litter stayed with us and are absolutely beautiful girls - Ama & Calli. We have kept a son from Calli, his name is Enzo, and he has stayed at Cwtchycat Towers as a future stud boy (we hope).
Sapphire has retired to a home local to us and is a beloved pet and companion and is doing exceptionally well. This line is now neutered sadly.
Koc-Pol Cat Amore Mio II of Cwtchycats (Spud)


Spud is a gorgeous blue bicolour boy with beautiful deep blue eye colour and a sweet and loving temperament - he also has great boning. He sired a few litters for us and 4 of his daughters remain at Cwtchycat Towers today - Ama & Calli (from Sapphire), Dharma (from Visage) and Amy (from Elise). His grandson Enzo (from Calli) also remains at Cwtchycat Towers.
Marula Dream's Hello Kitty of Cwtchycats (Visage)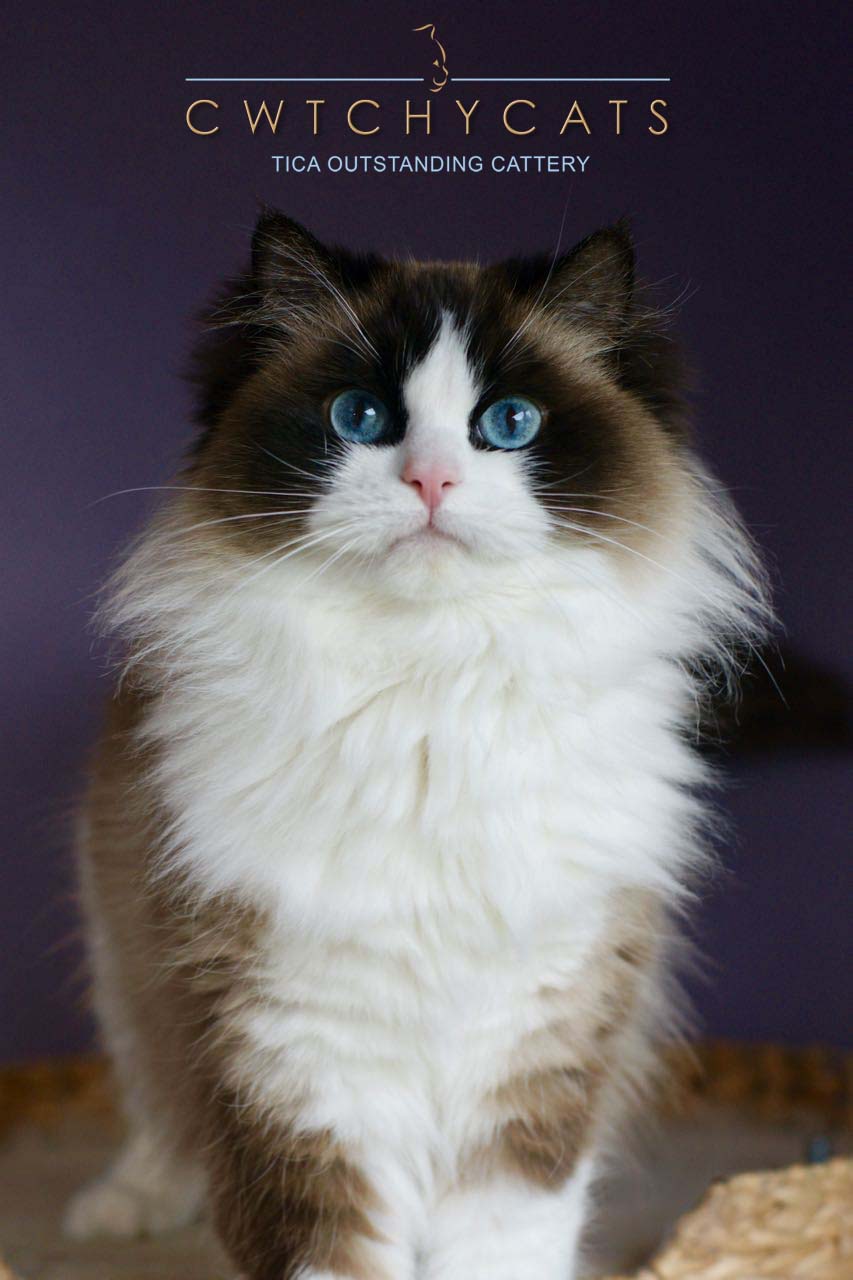 Visage is an outstanding seal bicolour girl that came from Claudia at Marula Dreams' Ragdolls in Germany. I saw a kitten photo of her on social media and fell totally in love. Fortunately, I was able to persuade Claudia to let me have her and she joined us at Cwtchycat Towers shortly afterwards. She had some gorgeous litters for us - and two daughters of hers remain at Cwtchycat Towers -
Dharma (from Spud) and Ava (from Finn).
She is now retired with a son from her final litter and living a very happy and pampered life in Gloucester.
Ariella Florida of Cwtchycats (Florida)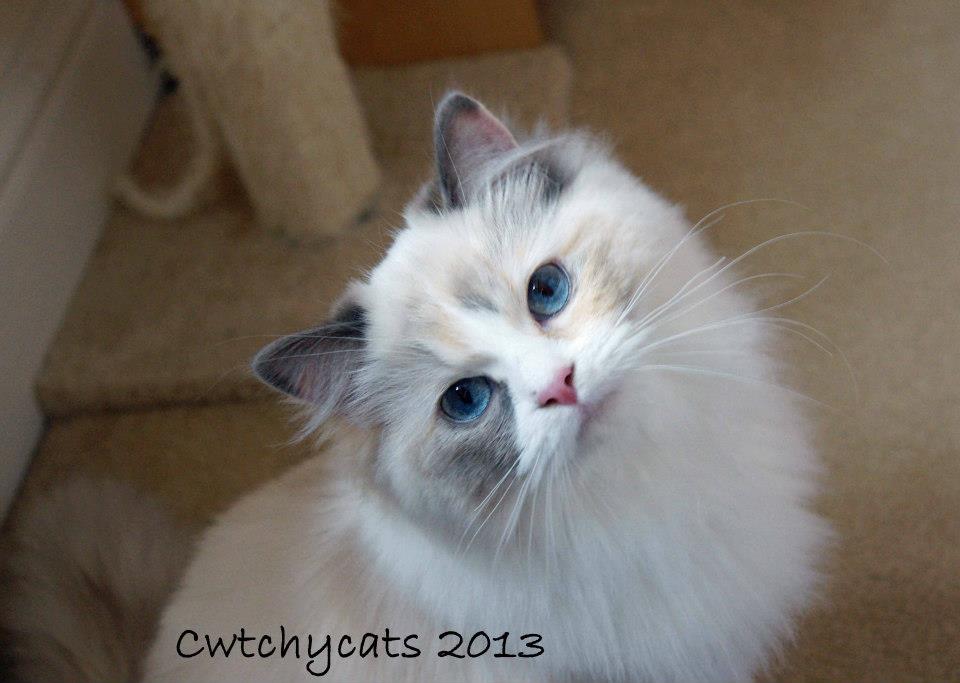 Florida is a beautiful blue tortie bicolour girl and came to us from our friend Erika at Ariella Ragdolls in Hungary. Although she was never the biggest girl, she had such a beautiful, sweet temperament and her kittens were stunning. One of her daughters - Elise - that she had with Bo stayed here at Cwtchycat Towers and Amy, Floridas' grandaughter is also here.
Florida is now retired and living with her daughter and grandaughter of hers in the Forest of Dean.
RW QGC Make It Mine Cwtchycats Mr Bojangles (Bo)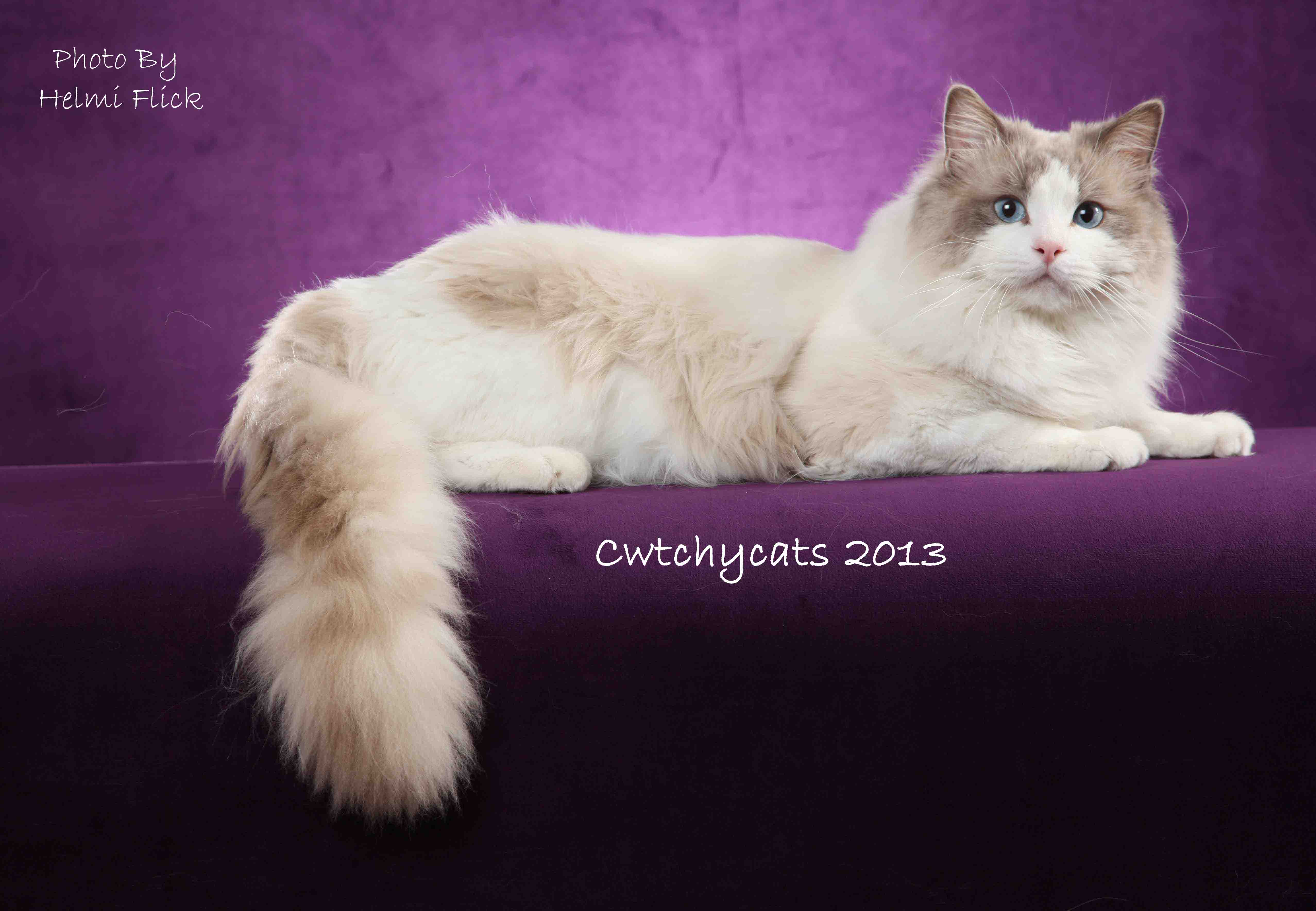 Bo is a very handsome blue bicolour boy, who came to us from Vincent and Shirley at Make it Mine Ragdolls in The Netherlands. Bo is just the sweetest, loving boy - even when his hormones were raging. He did exceptionally well on the show bench and achieved a Quadruple Grand champion title and a Regional Win for being one of the top 20 cats in Europe West region. He made some beautiful kittens for us and Elise, his daughter with Florida and her daughter (his granddaughter) Amy, are still at Cwtchycat Towers with us.
Bo is now retired and living in the north east with a friend and is doing so well and is totally adored.
LA IW RW (3 x) SGM Mr Bagpuss of Cwtchycats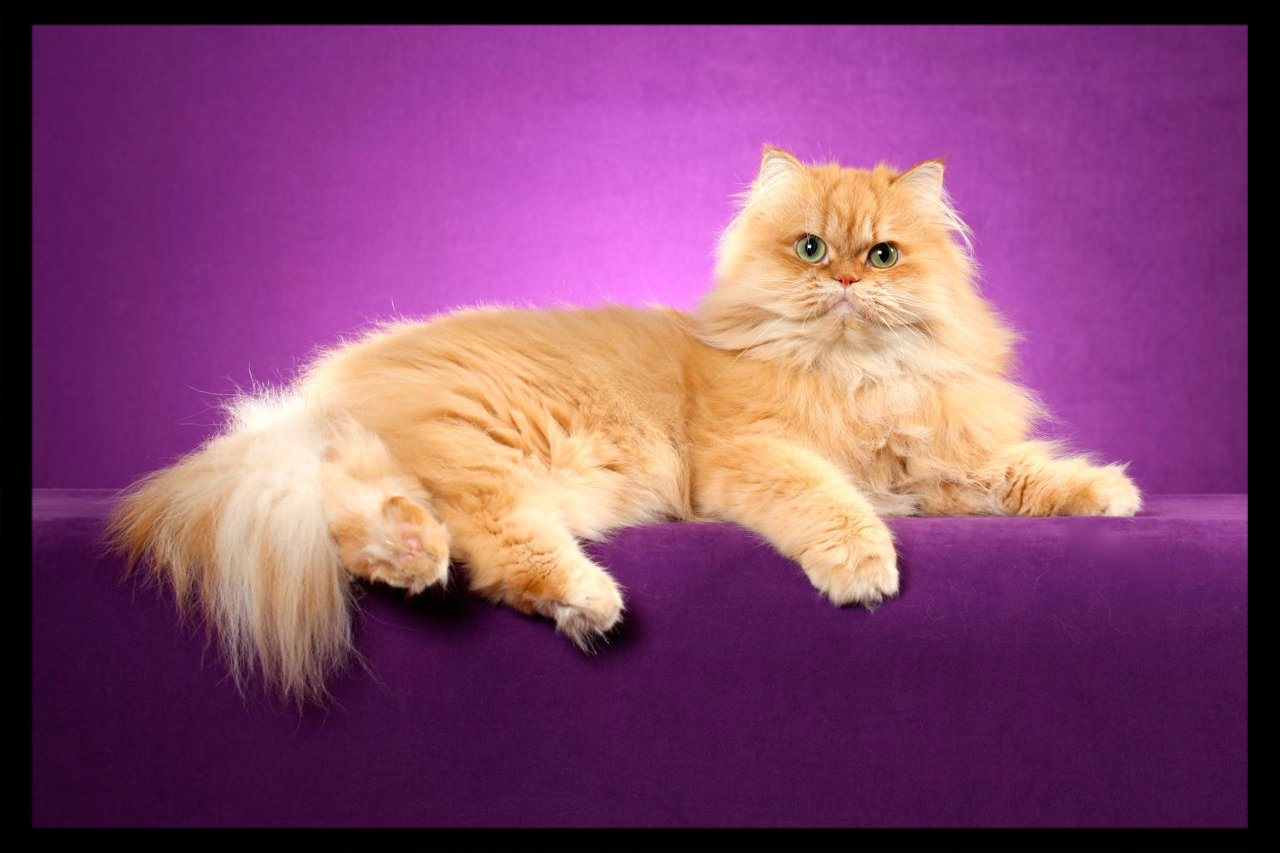 Although Bagpuss was never a breeding cat for us, he is involved with the kittens nd helping teaching them all things cat after Mum has had enough of them! He is such a beautiful boy, so very, very sweet and also very calm, and the kittens love him! It isn't unhreard of for him to let them try to suckle on them! He is such a good boy!